Starting a blog is a Good decision as Amateur blogger But doing some silly mistake makes your blog ranking diminish on google and reduces the blog's growth
So Be Careful!
When I entered into blogging I also did many mistakes because of not having much information about blogging and it took three months to solve these mistakes.
Doing mistakes is not only way to learn, but you can learn from other mistakes that amateur bloggers do. In this post, I have compiled some popular mistakes that every newbie does.
Believe me, if you read this post till the end you can find your silly mistake and you can avoid it.

Key-Benefit Of Reading This Post
✅You'll get to know about 20 mistakes that every amateur blogger make.
✅If you read this post you'll also get the solution to mistakes and some Bonus Tips.
✅Avoid wasting of time in making new blogger mistakes and
✅many more.
Let's avoid 20 mistake that every amateur blogger make when they start a blog.
20 Terrible Mistakes That Every Amateur Blogger Make
---
1.Use Free Domain
Do you Use Free Domain ?If Not then you are safe from this biggest mistake.
When I Started Blogging my domain name was masterblogging.xyz, I did lots of hard work But didn't get result.
After that I realized "Investing should be made to achieve something" and Because of this mistake, my three months got waste.
Later, I started getting results when I moved to the custom domain.
Having a custom domain gives the ability to make a presence and build authority in the online world.so if you are starting a blog as amateur you must buy a custom domain.
Reason To Not Use Free Domain
Don't Have Control: may shut your domain
Not Trusted By Other:
Unfriendly With SEO:
Solution: Use Custom Domain
If you ask me, I will suggest Namecheap and Godaddy is the best to take custom domain.
Make sure you buy a domain having .com extension, because it is a professional domain extension, Good for SEO and expert recommends this for Amateur Blogger.
---
2.Copying Content Of Successful Blogger:
When newbies don't get content to publish they start copying other Blog's content,Because they think doing research and writing content is Big task.
If you are doing this, means you are committing suicide with SEO because Google's Algorithm understands what you doing.
It is highly recommended to post original content,I would say write in your words.
If you write in your words definitely it will be unique and awesome.
worry about grammar here is Grammer chrome extension. Install and use it while writing content,it helps to highlight error and gives the sound of tone appearing from words.
What If I continue to copy content from Other Blog?
If you do this Google marks your content in Hating List called as "Plagiarism". Once you came into the Plagiarism your post will not be shown in Google Index.
Do you know "copyright" word? If you copy the image, content etc of other Ranking Blog then a copyright issues will be generated.
To avoid this use images free from copyright issue and if you take, please mention the source there.
Solution: Don't Ever copy content from others and Choose niche in which you are interested, so that you will be able to write more content.
Disclosure: The Beststandout is an affiliate partner(i.e., we earn some revenue when you purchase throuh our link,this helps to improve our site and make more enagement with user).You can use this link to avial the discount offer so its a win-win situation for everyone.
---
3.Choosing Lazy Hosting
Are you using Free Hosting? As early as possible you must have to move to the Good Hosting provider.
If you are doing this you are making Big mistake that I Did?
If you are a beginner blogger Good Webhosting is essential for you to succeed in Blogging,
But there are tons of hosting provider so which fits best for the newbie?
For an new blogger, Bluehost is the best option to start a new Blog,I recommend you to go with Bluehost with basic plan,
because they provide best Webhosting Services for just $3.25 per month.
Do you know? Millions of Websites are hosted on Bluehost with 100% customer satisfaction.
If we use Bluehost wll get Hosting+Bonus.
100% Up Time
Good Speed
24/7 Support
Unlimited Bandwidth
30 days Money Back Guarantee
and more..
Still confused? If Yes checkout the Bluehost Review and see what expert says about Bluehost.
Bluehost is a good choice if you want to manage your Website in WordPress and always preferred for blogging carriers.
Here I have shared in detail about How to purchase the Webhosting from Bluehost.
Step1: Go to this Magical link and Click on Get Started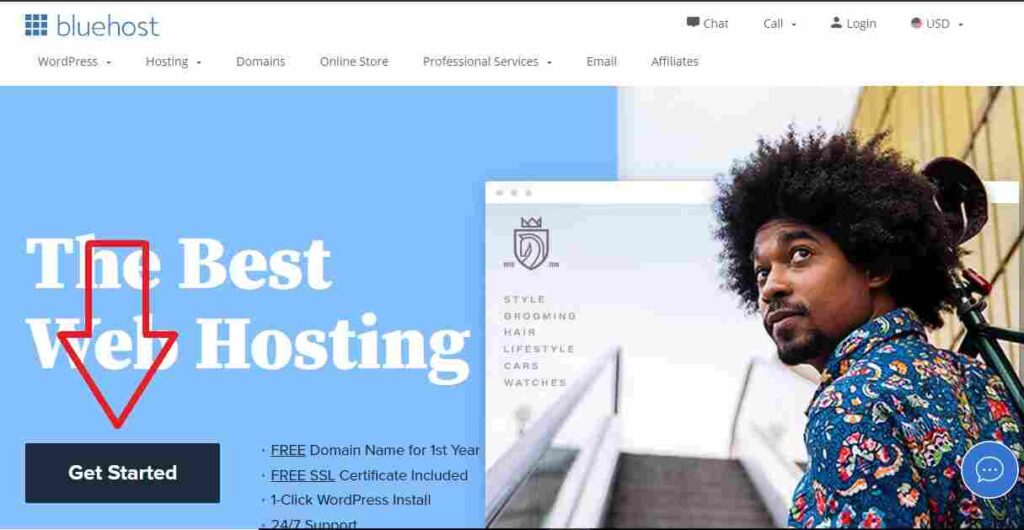 Step2:Choose Basic Plan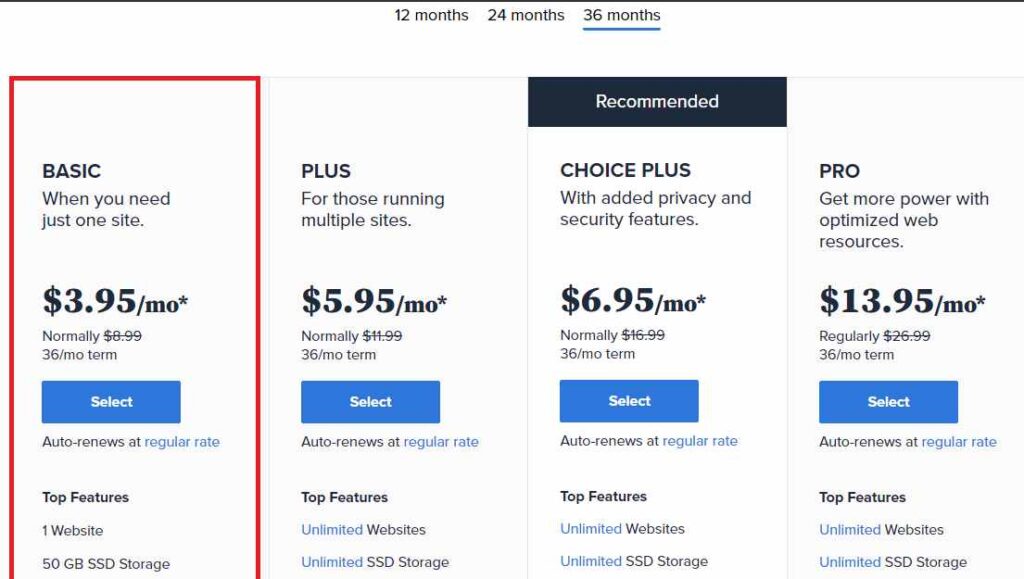 Step3:Select Domain.
If you want to continue with a new domain then choose the first option else Go with second option "use a domain you own". The second option is used when you have purchased a domain from other websites such as Namecheap and Godaddy.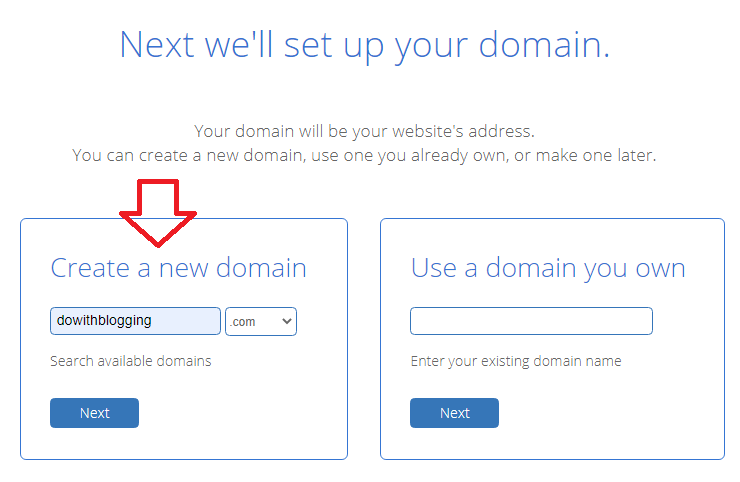 Step4:Fill Account Carefully, herewith if you get a pop of discount don't forgot to grab it.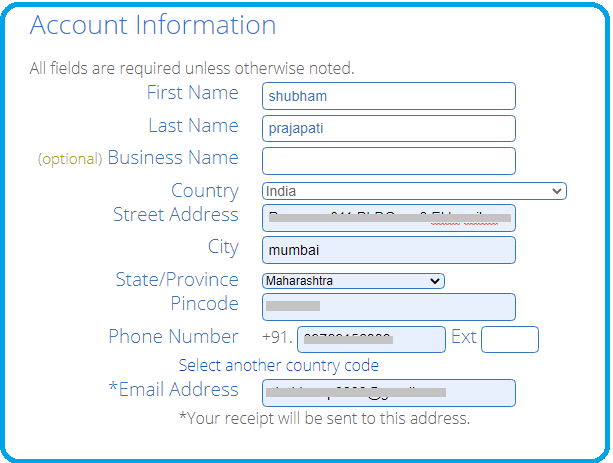 Check out package information and mark the checkbox which you feel need. you can uncheck feature to reduce the cost but I recommend taking at least domain privacy.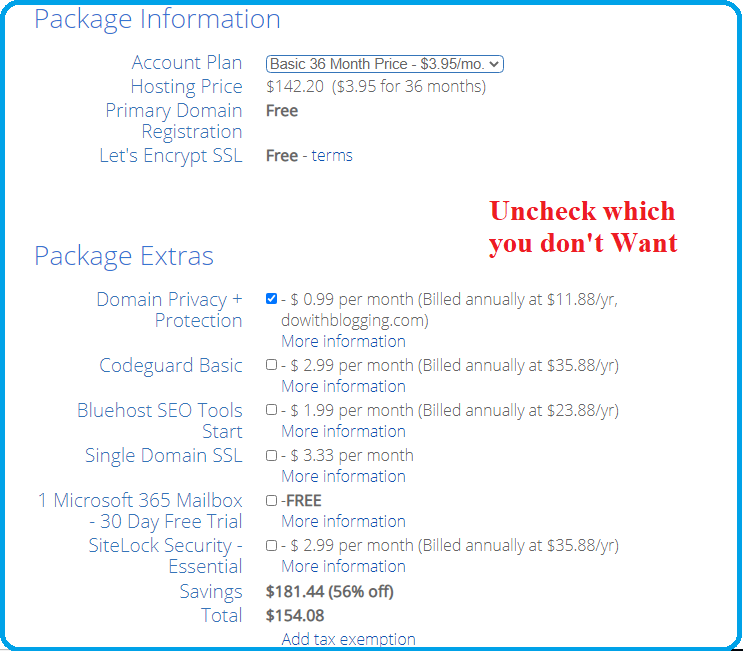 Step5:Fill Debit/Credit card Detail

Step6:Accept the agreement: Mark the check box and click on submit button to proceed.

"Congratulation", you have successfully purchased Hosting.
---
4.Hiding Yourself From About Us Page
Are you excluding About Us Page from Blog Or Not giving the profile information in the about us page?
If Yes! you are doing Biggest Mistake.
When I was a newbie in Blogging I did this mistake in taking Google Adsense Approval and Result was "Rejection".
Yes! My website got Rejected because of "Excluding About Us Page".
But, you don't do this mistake if you are an Amateur Blogger.
Include About Us page with detailed description of website and also include the website owner image, This indicates you are a genuine blogger and helps to build trust.
Before trusting on your Blog/website people want to know to whom they are listening.
Solution: Add About Us Page that describes Blog and Owner profile.
---
5.Building Backlink like crazy
Building Backlink is most important But if newbies start building it like crazy then it will be a crucial stage for them.
For bloggers "Building Backlink" in wrong way may results in shut their Blog because of misconception.
Where New Blogger Does Mistake?
They start a new blog, write some post and start building the backlink immediately. If you are doing this mistake stop in right now.
Robbierichards has defined the various link building Strategies that help every amateur blogger to build high-quality backlinks without any mistake.
Firstly,make 25-30 post and then start building backlinks. Even if you want to do it earlier go for Guest post or blogger outreach after publishing good quality post
---
6.Selfish In Sharing Other Content
Are you selfish in sharing others content? Don't worry! Like you, I also was selfish in sharing others articles, because this is a human tendency.
Every beginner blogger has misconceptions about sharing competitor posts, they think that Why should I gives my visitors to them to grow more?, they have already build a good online presence.
Well, you are right But to succeed in Blogging you must have to follow the rule of "Give and Take" principal.
If you ask me, I will recommend you to share because sharing the content of other bloggers is making connections with them, which helps in future.
When the connection will be more, traffic on your blog will touch the sky.
---
7.Avoid Linking Other
Building link increases website traffic But if you create only internal link it won't help you.
Unless you won't give others link,you'll not be able to receive the backlink from others.
Want to make more connections with Blogger? Link building is a smarter choice.
For amateur blogger, it is highly recommended to create first 20 to 100 post before building backlink.
Don't forget about " Give and Take' principle.
Advantage when you link other Successful bloggers!
✅Increase Domain Authority: Yes! If you refer other higher domain authority Blog,your blog's Domain Authority increase. For a single post atlest 3 outlink should be there.
✅Increase website traffic: if you get atleast single backlink from higher authority Blog, your blog traffic will get Big Boom.
✅Build trust: Building trust is a good way to retain the user for longer time. If users of other blogger finds your content are Good,Next onward they may refer your content.
---
8.Fear To Invest In Tools/Plugin
Widely mistake to be done "Fears To Invest In Tools" that they do? Even I also did But, slowly I started investing into learning and Plugins to improve my Blog.
Even newbies know the benefits of Tools/plugin But they don't use it because they are not interested to invest money after investing in hosting+ Domain.
If you are doing this ,you must have to break this rule and start investing in your learning, plugin/tools, and improving blog.
To become a successful blogger and earn for longer time, you must have to invest some money in Tools/plugins.
But which tools/plugin best for my Blog?
Popular Founded plugin/tools for new Blogger to avoid mistake.
Thrive Architect( Plugin Design Your Blog)
SemRush(Single Tool For SEO)
ShortPixel(Plugin To Compress Images)
Convertkit (Email Service)
---
9.Posting Content Inconsistently
Most common blogger do the mistake of publishing content inconsistently.
Initially, newbie starts blog, write few post and wait for the result. After a few month if they don't get the result they shut the Blog.
This incident can be your, if you are not posting content regularly, basically this is stage where every new blogger get desperate and shut the Blog.
But, you never do this big mistake.
When you start writings content regularly, you will get Good exposure and later you don't get any hurdle to write content.
Most amateur blogger Write content on Different Niche, which I don't recommend.
When you write content on different niche, Google finds it difficult to identify main area of content of blog.
So if you are starting a new blog, your niche must be clear.
Question: How to Write Blog Post?
If you stuck after writing some Blog Post, and unable to find topic to write content follow these steps.This will help you to write good blog post.
Research topic based on your niche(use Quora, Reddit and other platforms to find Good topic, Also Do some keyword research).
Search on Google for the selected topic and Analyse top 10 posts from the results.
After analyzing write your post in your voice, which should be best from other
By following these step newbie can write Good post for their blog.
---
10.Keeping Terrible Design

Do you focus on Blog design? If No you are losing potential user as well as Destructing your blog.
Most of the time newbie uses the Free theme because of lack of budget, But future blogger if you use free theme Google doesn't rank your Blog
I know somehow you are arranging money for Hosting But I recommend to arrange some more money for a premium theme, it is only one-time investment for Theme
If you ask me , I will recommend Astra Theme because I am using it and have Good experience.
Some of the newbies keep the terrible designs for Blog, which Gives bad impression to users,and they invite to bounce Back.
You may be thinking what is Bounce back?
Bounce back is represented using Percentage, which represents the amount of user left by pressing back button without navigating other pages of the site.
So if you are not designing your Blog well ,your bounce rate can be increased.
---
11.Asking Friend To Get Click
Every Amateur Blogger do this mistake, If you also doing this then you are pushing your blog into the grave.
so if you are still doing this stop it right away to avoid SEO suicide.
When I was newbie ,I was asking my friend to visit my blog. They visit the blog but immediatlly press the back button and come out from the blog,
And, this create bad impression to Google and stimulate the bounceback.
When I come to know about this,I was Shocked and I decided not do this mistake again.
So I hope you will not Do this mistake That I did?
Solution: Don't Ever Ask Friend To Get Click But, you can recommend
---
12.Not Focusing On Single Niche
Choosing a Good niche is a critical task in blogging and this is point where new blogger do mistake.
New blogger don't focus on choosing Good niche, they start writing content without doing any research
And, later they say I am not finding the content to write the post.
Most of the new blogger starts writing on multiple niche when they don't get content based on their Blog.
If you are also doing this, leave it right away and focus on a single niche to succeed in blogging.
I recommend "Always write on Single Niche", If you focus on a single niche,it will rank much faster than others blog which contains multiple niche.
---
13.Tired To Optimize Images
Are you optimizing the image before uploading on Blog? If No you are wasting your storage, bandwidth and potential customer.
But, How?
If you do not optimize the image,it will consume more bandwidth, take longer time to load, and human beings hate "WAITING". so not optimizing image may lead you to lose millions of Doller.
How Can I Optimize Image?
For Blogger,shortpixel plugin can be used or else they can do by manually via compressing website. Go for plugin option if you want to save time.
Advantages of Optimizing Image
Image Load Fast:
Rank Faster:
Save Bandwidth:
Save storage:
---
14.Writing Tedious Blog Description
If you are not writing an Actionable Blog Description, you won't get visitors.
You Know "First Impression is Last Impression" so don't do this mistake if you are a newbie.
Blog description is a summary of blog, which helps Google to identify what type of content is on the blog.

This is the interaction point between your user and Blog that appears in SERP,so losing this interaction means losing user.
But, How To Write Great Blog Description?
Before writing blog description,analyse your blog and write a summary of it which should have a length of 160 characters.
If still you are not understanding, read how to write great blog description where I have shared about master tips of write Blog/Post description.
---
15.Making Haste For AdSense
Is Your Blog Ready and Going For Adsense Approval? Wait!
Every blogger has a dream to get Adsense Approval in the first attempt, But this doesn't Happen becuase of some silly mistake.
Before Going for Adsense Approval make sure you satisfy mentioned requirement to avoid the mistake That I Did?
Best Approach to Get Adsense Approval in First Attempt.
Blog should have .com domain
Make sure your blog is 6 months old
20-30 minimum Post
Good Design(Use thrivetheme )
Should Have Essential Pages(home,About Us,Declaimer,Contact US)
I recommend first, get traffic from different sources then apply for Google Adsense.
Even if you get Approval, it won't be useful because you will not earn money unless you get traffic.
---
16.Ignoring Social Media
Unfortunately, fresh blogger don't get traffic from organic search,
And they get upset.
But they forgot about social media which is a massive source of traffic In blogging.
Bad part is Audience doesn't know about your blog, so you must have a way to reach them, And social media plays a Golden path to reach you there.
Once they start getting to know about your blog, some of them will become your loyal reader and they also start sharing your content.
Are you relying on a single traffic source? If yes Stop this habit before snatching your traffic.
One more question you may have!
Do Social Signal good for Google?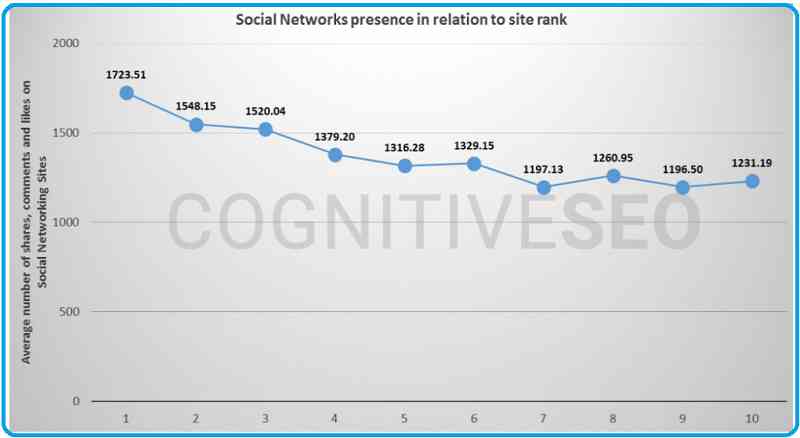 Yes! Google and other search engine consider the social signal for ranking factor, Because they analyze how frequently URL accessed and total time spent.
In the above image, you can see Cognitive SEO Graphics showing how social media influence traffic.
If you really want Good traffic, you must have to use social media.
---
17.Placing Too Many Ads
Haa! Have you placed too many ads on Blog? If Yes, there can't be any other way to destroy the user experience.
Using too many ads not only kills the new user but also shout to the existing user to go away.
When I was a amateur I did the same mistake,I placed 5 AdSense ads on my blog and result was loosed 50% user.
But, you can avoid this terrible mistake by placing minimum ads.
If you want to place ads, it is highly recommended to place 2-3 ads. Why should I place minimum ads?
User get frustrated: if you use multiple ads, user gets frustrated because ads make difficult to read content and consume more bandwidth.
Slow Page load: because of many ads, If the user doesn't have fast internet then it may take more time to load than expected. Keeping minimum ads makes your blog stand up in SEO.
Pro Tips: Before doing any modifications or changes think deeply whether it will improves blog or destroy.
---
18.Not Updating Content
Not updating content on regular basis may give a sword to your competitor, which helps them to beat you.
If you are a new blogger it may happen that you won't come up in front of the audience because of this silly mistake.
Many a time after publishing the content,newbie don't even bother to see the performance of post(Unique Visitor, location and devices) etc.
If you keep updating your content, your blog have a chance to appear on Google's first page, Because Google wants to show the latest information to user.
Pro top: Use Google webmaster console to find new keyword and add it your corresponding post with some more content. This helps to keep upadted your content Along with Bonus Keyword.
---
19.Writing post Without Doing Research
If you are doing this mistake, you are just putting garbage in your blog and no one asks for this garbage.
Writing content blindly wastes your time and effort, so I recommend avoiding this silly mistake.
You'll not believe, I was doing this mistake since 6 months and when I got to know about this I was shocked.
Reason for not getting views on my blog was this mistake because I was publishing those contents which no one was demanding.
But,I started using tools that helped me a lot to write a fresh post.
When you do research, you can find new keyword which is trending and it helps you to write content which is in demand most.
---
20.Showing Multiple Pop Up
Have enabled multiple Pop Up feature on your blog?If Yes then you are giving ticket to user and asking to run away.
This is where most blogger make mistake in the greed of building audience. Why I'm saying this Because using multiple pop up make the user irritated.
If you don't want to lose your user,use few pop-up and verify it should not make user to feel boring.
If you ask me which plugin I use for Pop Up, I'll say Convertful, which gives more features and customization to make pop-up box.
Through this you can build actionable pop box and Don't forgot to set time to show pop Up, usually, we keep 30 sec.
Immediately showing pop up to user makes a bad impression on user and result will be "leaving your site" so don't do this mistake.
I hope, this post helped you to avoid amateur blogger mistake, if any other mistake found kindly tell us via the comments box.
Now its your time.If you found any mistake from this post that you did, stop it right away to get your blog next level,
And one request to you, please share it with others to avoid these Mistakes by beginner.
Thank You & Good Luck !
---
FAQ About Amateur Blogger Mistakes
Should I Start blogging thourgh Blogger Platform?
As a beginner, you can start with blogger platform But for the longer benefit, I recommend for WordPress. WordPress has more advance feature that provides easy and good way to manage content with SEO, And with WordPress you can easily get Adsense approval