Are you getting impression but no click on website? Here I shared some master tips to get 80% increase in the click rate. Don't worry this happens with every newbie , this is the stage where blog starts making the presence online.
Benefits of reading this Article
You'll get tips to get more click
You'll get some SEO tool to write good title
and many more
---
5 Things To Apply To Solve The Problem Of Getting Impression But No Click
1.Copy Others Title That Converts
If your competitor's has good title copy it, make sure your content should be unique
As title grab the attention of user it must be good because that makes user to click on your website
Analyze the competitors, how they writes the title and meta description that will improve your skill to write great blog & meta description
2.Make FAQ In Article
FAQ provides the answer to the question asked by user, If you presents these answer at the end of blog, reader can easily clear their doubts. Herewith popular FAQ are listed in SERP that answer the user query and it also helps the blogger big source to drive traffic.
(include pictiure)
Some of the SEO plugin like Rank Math provides the FAQ feature.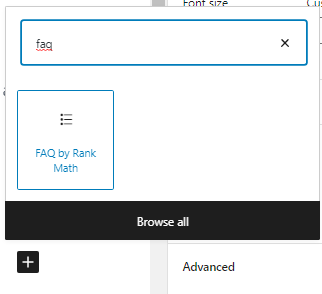 3.Simplify SEO Title Format
While writing the SEO title, you should follow the proper structure and don't forgot to focus on primary keyword.
Optimizing the title includes proper length, unique title, right keyword, brand name and specific to user.
Master blogger always write the 5 to 10 title and best one is picked to make perfect SEO title for post. this strategy you also can apply to get positive result.
If you have created WordPress site SEO tool like Rank Math, Yoast best fit to include and optimize the SEO title for post.
Writing SEO title in Rank Math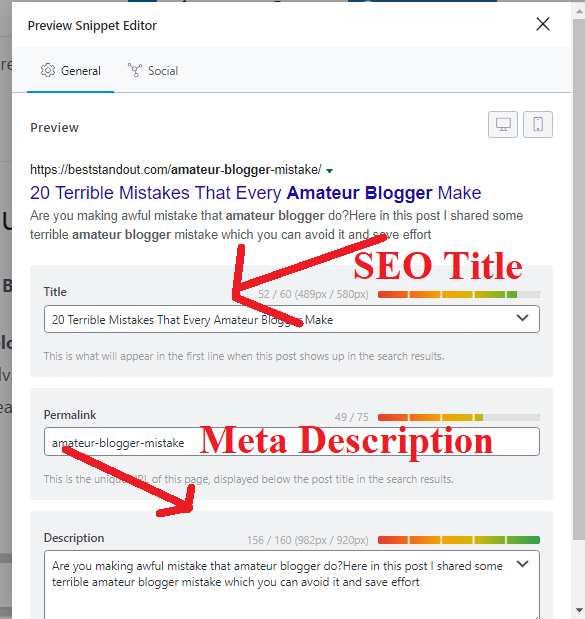 4.Use List To Represent Data In Post
Identify whether your data can be represented in list format, because list of information are preferred by user. You might have observed many times that Google display the list of information in People Also Ask Section.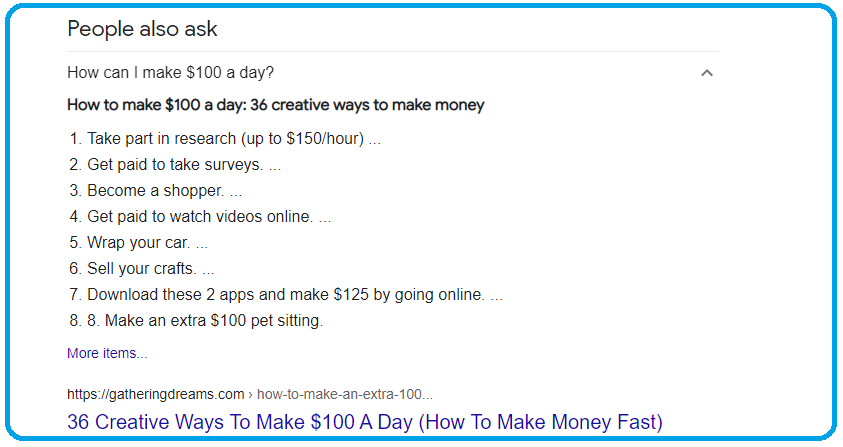 So if you have data in list form, it has high chance to rank in Google
5.Test Your Headline On Social Media
Apart from doing the keyword research you must have to analyze the viral or trending headline that makes you to grab more social share.
If aren't able to write great headline, use headline analyzer tool that helps to write attractive headline
Example:
5 Tactics to build a Blog That generates money in 5 Figures Per Month
10 Moves to build fast Email subscriber list
6.Optimize Site Speed
Once the user knock your website ,it must load within few seconds. Generally if website loads within 2 to 5 seconds considered as good. You must check website load speed before it downgrade from SERP results. To load website fast you can follow the simple tips
remove the higher files that takes too much time to load.
use CDN to load website like rocket
Use Image Optimizer tool to compress the Image
7.Write Your Title & Meta Description By keeping Targeted Audience In Mind
Writing good content won't be viewed until your Title and meta description attractive. Good title makes the user to knock your website. When the user click on your website link from SERP, that means your title grab the attention of the user.
8.Use Rich Snippet.(All in one Schema)
Even ranking factor are changing on search engine but using rich snippet can be beneficial to grab more CTR. Most e-commerce marketer use rich snippet to show the product review and rating, this helps them to build the trust in customer.

So highly recommend for you to use Rich Snippet to grab more attention in SERP result
Easy way to use Rich Snippet install All in one schema plugin in WordPress.
this supports following different snippet that you can include in post
Review
Event
People
Product
Recipe
Software Application
Video
Articles
---
3 Moves Not To Follow If You Wish To Get More CTR
If you are getting impression on search engine but no click ,it can have many reason but I found 3 measure things that causes the problem.
1.Targeting multiple keyword in single post
I personally tested of targeting many keyword in single post but it doesn't provide expected result although i got the more impression. Because it makes to difficult to understand on which problem article is written.
So I highly recommend ,target keyword up to 5 keyword in single post that will increase the chances of ranking.
2.Not Including The Numeric In SEO Title
Expert says that heading with numeric gets higher chnace of click by the user becuase user looks for place where he can gett all information in single package.
Here i presented some heading that will help you to write your own eye catching heading
Top 10 laptop for programmer up to 50% OFF.
10 Best books to buy for understanding the value of money
List of tourist places where you must visit at least once.
3.Asking Friend to visit your site
Mostly this mistake does by every beginner Even I Did. Why this is not good because your friends visit your site but
they immediately press the back button that increase the bounce rate. Ultimately your blog be downgrade
Found this article useful?, kindly share it with your friends. Have a great blogging.