Your searching will end here to find the best WordPress Theme for a blog. Before choosing the WordPress theme your blogging domain should be clear that means for what type of blogging theme you want to.
For Example, if you want to blog in the movie review then choose the theme which has an excellent heading, slider, and list of movie structures. Theme design should be attractive and eye-catching for users.
To do the SEO for your website best WordPress theme for a blog plays an essential role.
Best WordPress Theme for a blog
If your theme design and its structure will be good then google Adsense approval will be quite easy. Choose your theme which is unique and faster to load and contain the sidebar.
An impressive WordPress theme may require the best WordPress hosting provider to Load site 20X faster without compromising the design
We enlisted the top 10 best WordPress theme for a blog of various category so that you can select a theme which relates to your blog.
#1. Writee WordPress Theme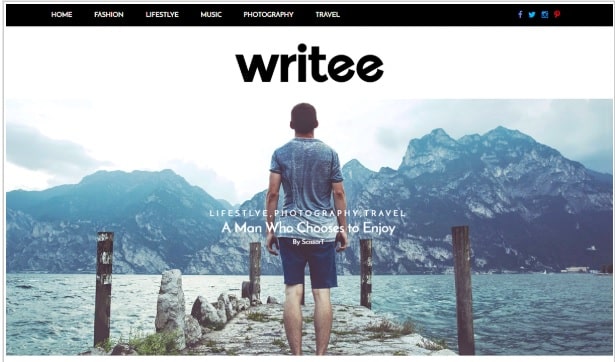 The most widely used is writee theme by the professional as well as beginner blogger because of its lightness and smooth loading. The header of the theme is easy to modify and allows to create attractive navigation pane.
Various social network icons is given through which you can easily link to your Facebook, Twitter, and Instagram accounts. You can check its preview before activating it in WordPress.
#2.GeneratePress WordPress Theme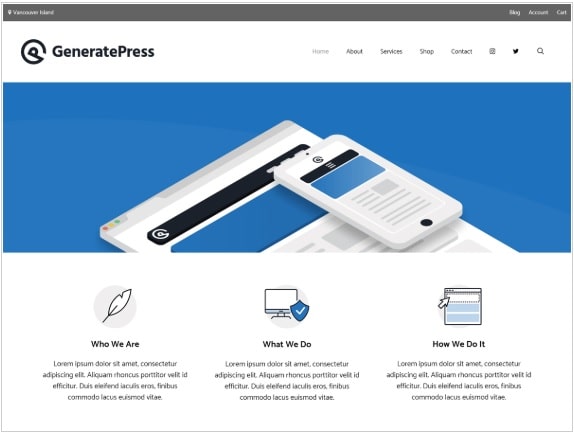 The GeneratePress theme is a popular theme that is recommended for the beginner who just started blogging. It includes a big slider, right side navigation pane, and three jumbo box columns to show your blog purpose.
You can use page builder with this theme to make the website much good and forces user to visit again and retain users. Design became the main factor that influences the user to spend more time on your website that may result in page ranking.
#3.Ample business (Theme for Business)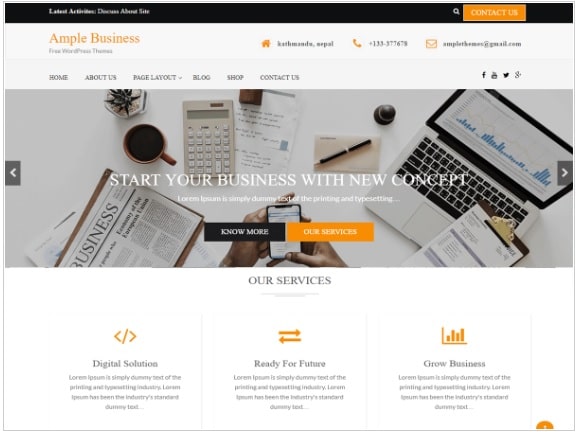 Ample theme offers to manipulate its slider, navigation pane and provides eye-catching color with space clarity and typography. It provides an easy experience to read content with different images and icons.
If you want to become a successful blogger then choosing the correct theme is necessary to step to avoid ranking in google. You are fully enabled to customization its background image, color, footer and header along with the icon.
#4.Typology-Wordpress Blog Theme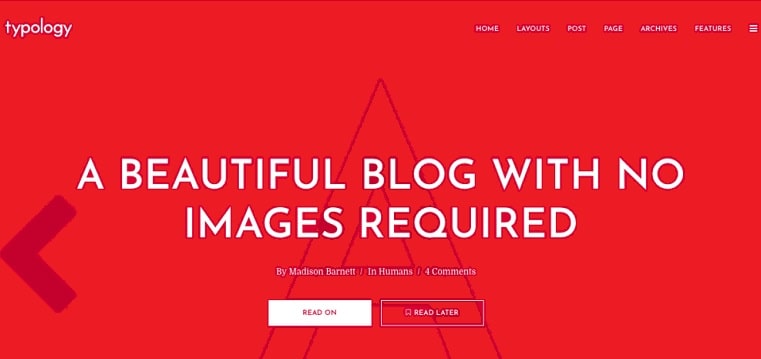 Typology is a fabulous theme for blogger which provide various feature regarding POST creation, customizing page, theme and enable SEO, etc. It shows time about how much time it takes to read a post or page.
It includes powerful, incredible quotes, theme option to set the typeset and you can easily update it when you need.
#5.Divi-Wordpress Theme for a Blog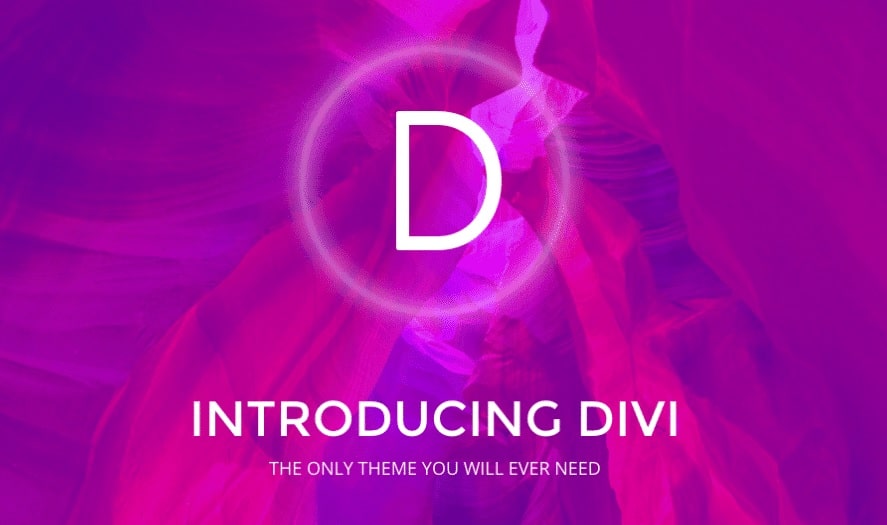 Divi is developed from an Elegant Theme which is mostly used by the blogger, who wants to create a portfolio site. It is equipped with different features such as create layout, template, and page.
For Divi theme, you are required to install the various plugin to get its feature for example.
Divi (Best theme for blog)
Adding audio player
Email Forms
Table of price
#6.Higmag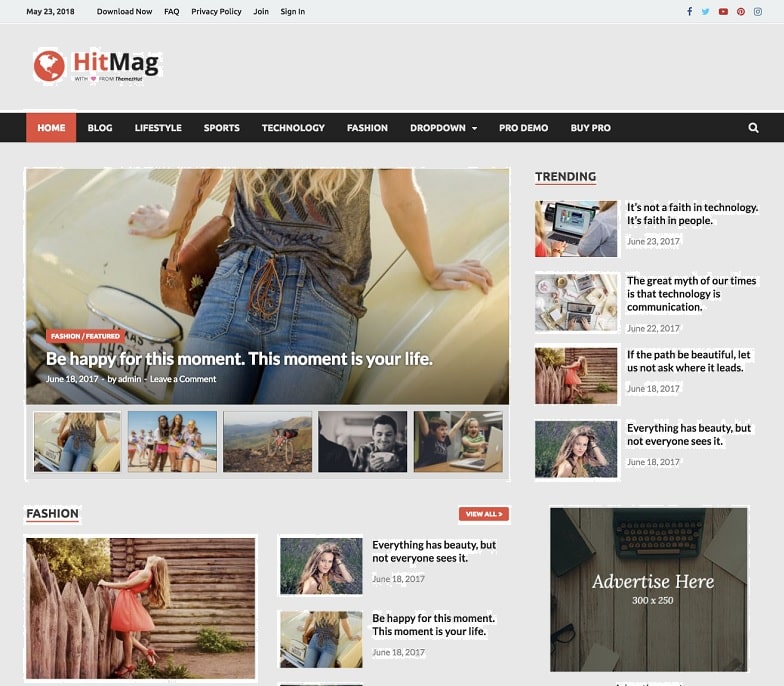 Hitmag theme is the Trending theme for news blogging consisting of a number of the sidebar, widget, layout and social network. Try these themes for blogging in the domain of news blogging which has number huge content daily.
It provides an impressive header and sidebar in which you can place Google Adsense ads to show an advertisement to the client. Hitmag is a powerful theme in which you can create a magazine or newspaper.
You can easily add a new widget anywhere to display the recent post, archive, featured post and gallery.
Awesome Features
Faster Load
Good placement for Google Adsense Winning
Huge option for navbar
Responsive on All device
Small Theme size
#7.Neve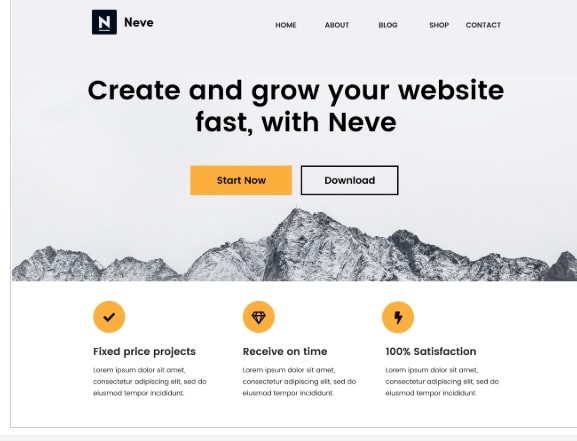 Neve WordPress theme is a lightweight, fast load Wordpress theme. Neve theme loads less than 2 seconds because of its optimized weight and uses the plugin WordPress cache for more improvement.
Wow ! awesome about these feature . Hey why are you waiting just hit download now and make your wordpress blog awesome with this amazing GUI theme.
It has the custom design of the header, website layout and navigation pane along with an incredible slider.
#8.Theren lite (Theme for photography)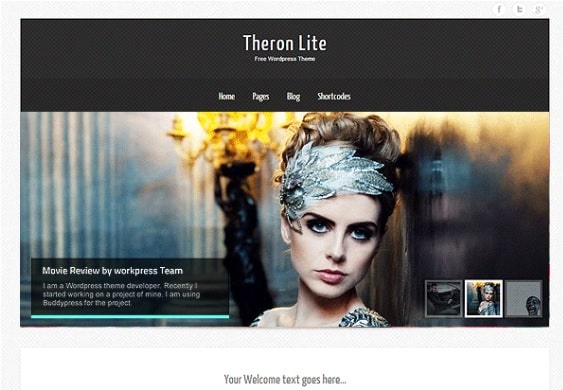 Theren theme allows blogging about makeup, photograph, and personal view sharing. It has fully responsive, widget, sidebar and contacts us page.
you can add a background image, remove widget and header customize, etc. This can be a great option when you don't want to spend money on a WordPress theme for your blog.
It does offer various customization layout on which you can create footer archives and much more.
#9.Shopper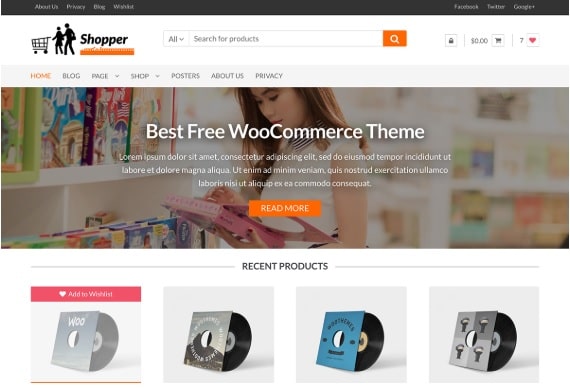 Do you want to begin blogging with E-commerce? then shopper makes it possible to do it. It has three navigation pane to allows the client to search, add to kart and more.
You can use the Woocommerce plugin to make it an E-commerce website. Woocommerce plugin allows creating an online store to do the business on the WordPress site. Before choosing the plugin you need to consider what product you will be selling. There are awesome SEO tool to Rank website and boost the conversion rate of your Business
#10.Revenue-Optimized Theme for Blog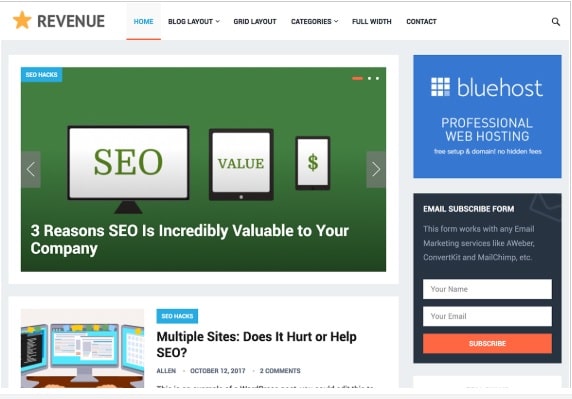 Want to do more with SEO for your blogging then the Revenue theme is the best WordPress theme for a blog. It includes optimized navigation pane, header, slider and sidebar which looks clear and faster load.
When SEO friendly theme is used then chances of page ranking increase, which ultimately increases the revenue. There are people who are creating a Free website within 5 Minutes with the help of the Blogspot platform of Google.
Kindly share this article with your group to help them in doing blogging. If you found this article useful, please provide your comments below.