The following are the 5 master ways to boost website ranking on google in a month with the help of On-page SEO and OFF-Page SEO.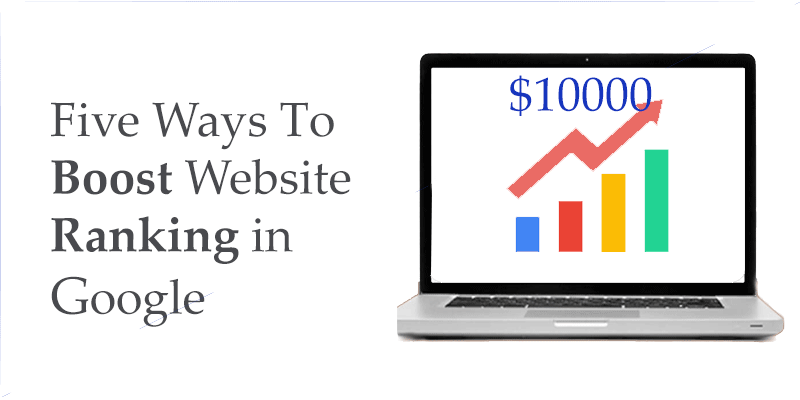 Step1: Publish Relevant Niche of Domain
To rank Your website on google in a few week user experiences are important which can be established by writing a relevant niche.
User experience can only gain when the client starts visiting your site and staying at least 30 seconds. In boosting of website ranking User experience play key role so take this crucial step.
Write an article for which the client is looking for on google. For example, your website is talking about learning digital marketing then you should write an article relevant to digital marketing such as SEO, Developing website and more. You should not include another domain articles such as Movie or Lyrics
Target Longtail Keyword
Try to target long tail keyword so that chances of the ranking website increase. It is really hard to rank a website on a small keyword such as "digital marketing" keyword because of high competition.
To analyze the keyword which is ranking high and low competition use SEO tool such as ahref ,SemRush and ubbersuggest.
When you target long tail keyword ,it increases the ranking of your blog on others keyword which you didn't target.
Keyword repetition
Repeat your target keyword phrase at least 2-3 times in your content. Your keyword phrase should appear in the first paragraph and heading of Article(POST)
Step2: Write Eye-Catching SEO Title & Meta Description

SEO title plays a measure role in getting traffic to your site which ultimately becomes an increases ranking. To retain visiter for the longer time on your website your Content should be good enough.
The meta description is very crucial because google understands the page content by reading the meta description and SEO Title. Your SEO Title should relate the content of your page and it must include keyword phrase to boost the high ranking of a website
Step 3:Create More backlink To Rank Website
If you want to get high rank of your article with a higher competition keyword, a backlink is necessary. The backlink can be taken from the social network(Facebook, Pinterest, Instagram).
Backlink From Facebook
To Get The backlink From Facebook, create a Facebook page, write POST and share it with your friends. Try to make a large group of people so that the traffic will be more.
Backlink From Pinterest
You may have seen some of the results on google come from Pinterest so it is recommended to you crate Pinterest account and pin the new POST daily.
Backlink From Instagram
You can get Huge traffic from Instagram if you have even a few followers. Just describe the content with an image on Instagram.
Step 4: Update POST Content Regularly
When you update Content Regularly Google understands that the content is Strongly relevant to Domain and has accuracy according to the changing environment. Google displays the latest information to its users considering the user experience on the site.
Step 5: Use Google Webmaster Console To Discover Keyword
Which Keyword Users use to reach your website can be discovered using Google webmaster console. Once keyword found, you should include it into the content(Article) to get rank on Google on that keyword.
Do You know that the Google webmaster tool feature? it displays the error pages, Total Click, Total Impression Average Position of a website and more.
Conclusion Of Boost Website Ranking On Google
Follow the above steps to boost the ranking using the powerful SEO tool, later you can see the rise in the ranking of your website within a few weeks.