Want to prevent WordPress site crash? Here I listed some popular reasons that make your WordPress site crash. Also mentioned an essential solution that you can implement to keep your site live without any issue.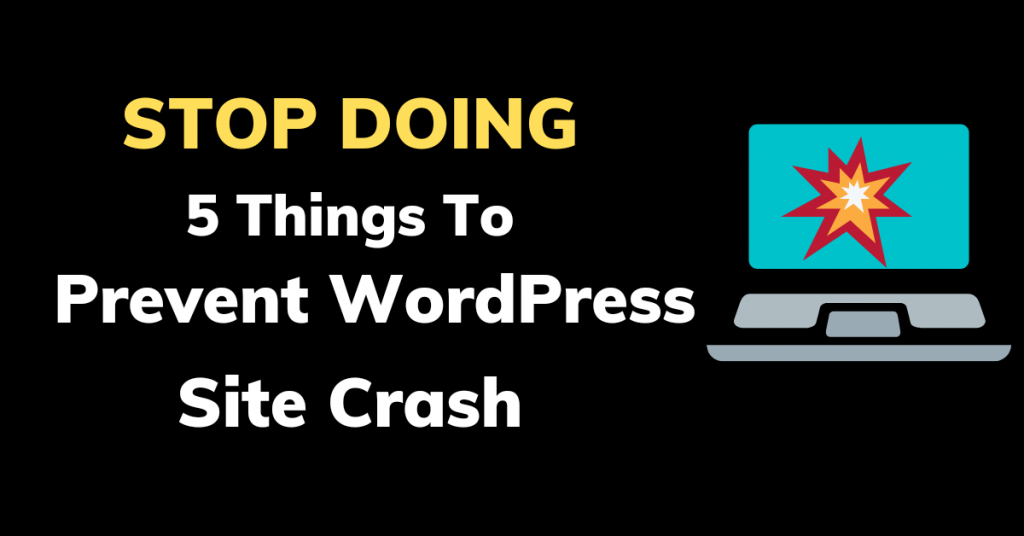 Table Of Contents
Modifying Internal Code
Immediately Going For Update
Installing Plugin Without Reviewing
Using Multiple Plugin For Same Functionality
Using Poor Web Hosting
Top Reasons To Website Crashes
Lets' get started to find out what we can avoid to prevent our WordPress website crash and top reason of crashing.
Modifying Internal Code
Altering websites from internal code may cause your website to crash, this is the reason that most experts don't recommend modifying WordPress sites internally until you have some coding knowledge.
Well ,if you want to modify your WordPress site, take backup first and alter code in the best time such as when your website has low visitor.
Recommend: if you're modifying the theme then you should do it in the child theme instead of the parent theme.
Immediately Going For Update
Keeping your website up to date is good for site health but in most cases immediately updating can cause your WordPress site to crash because of some fault in the update.
My advice is to wait for one or two weeks after the update release. If any error found in this waiting period it would be resolved by developer and you won't face any problem because you hadn't installed plugin.
Think your website gets millions of traffic per day and your website got crashed because of just a single update. You will be losing thousands of dollars, customer trust and website ranking.
Installing Plugin Without Reviewing
For extra features in WordPress we need to install the best wordpress plugin. Before installing the new WordPress plugin you must go through its review, supported version and rating.
This will provide an overview whether one should install plugin without harming the website.
Using Multiple Plugin For Same Functionality
This is the big mistake that most newbies make. Not only does this affect your site performance but also cause errors when plugins conflict with each other.
Reason is that many of blogger scares investing into the tool, In this competitive world if you don't use tools you'll consume more time and efforts.
Using Poor Web Hosting
Good web hosting is essential to speed up the site,serve more user and earn in 7 figures.
Every beginner scares about investing in Web hosting and domain. They want everything without investment single amount of money.
Note: You must follow the give and take policy to succeed in any business.
For longer growth,you must start with best web hosting like Hostinger which offers less than $1 per month for beginner.
👉Grab the Hostinger Deal Now-90% OFF
Top Reasons To Website Crashes
Code error
Hacker
Hosting error
Malicious Attack
Heavy traffic