One of the popular ways of earning money from Blog is by Adding the Google AdSense on the website.
Do you know adding proper Google AdSense to a site is essential?
If you won't place your ads properly, your AdSense account can be suspended, or can cause lowest earning.
Here I mentioned how you can place Google AdSense properly on your site and increase the earning.
Table Of Content
What Is Google AdSense ?
Requirements To Add Google Ads On Your Site
How To Manually Add The Google AdSense Ad Code To WordPress Site?
How To Place Google Auto Ads On Site?
What To Avoid While Placing Google Ads On Your WordPress Site?
What Is Google AdSense ?
Google AdSense is a best advertising network which is owned by Google that allows the publisher like blogger or website owner to show relevant ads to their site.
This is the common way of earning from your blog/site. Google AdSense allows you to insert different types of ads on site such as image ad, text ad, text and image ad.
Adsense offers you to earn money by showing ads as well as using CPC(cost per click) which means you also earn when a user clicks on the ad.
Requirements To Add Google Ads On Your Site
Google AdSense Account
AdSense Approved Site
Google AdSense Account: To monetize your blog with google AdSense you must have an AdSense account, if you don't have sign up here.
AdSense Approved Site: To make your site eligible to display ads it must be approved by Google AdSense Team. This is the place where many AdSense Seekers are stuck and don't get AdSense approval because they don't follow the AdSense approval process properly.
How To Manually Add The Google AdSense Ad Code To WordPress Site?
Placing Ads manually provides more control on ads.First login to your adsense account, go to ads tab and click on by ads unit tab.
Here you'll get different types of ads such as display ads,In-feed ads, in-article ads and search engine ads., if you're unsure then choose Display Ads (Recommended).

Next, you will be asked to enter the ad name, size, and its type.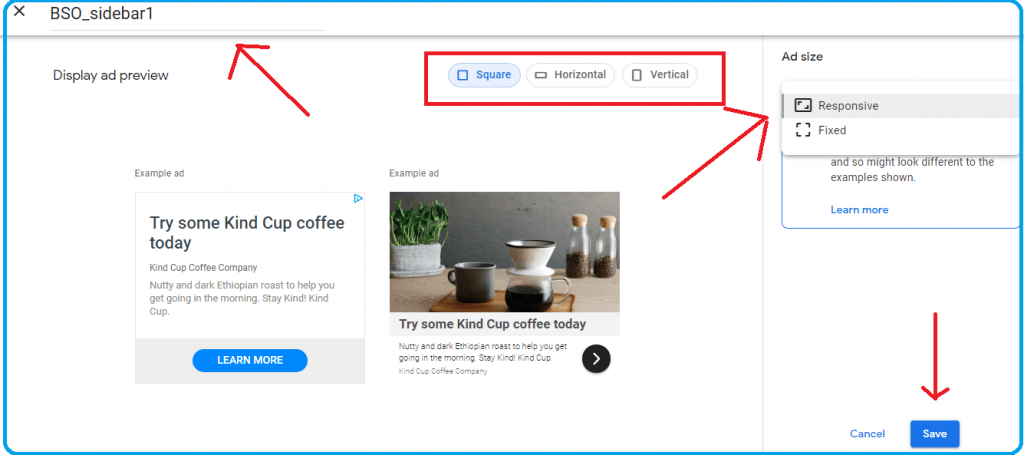 Ad Name: Ad name should be self explanatory such as Yoursitename header so that in future you can easily identify this ad. Basically iit is used for internal purposes.
Ad Type: There are ad types available Square, horizontal,and vertical. Choose the ad type according to where you want to place it on your website. If its sidebar, choose vertical or if it is header then choose horizontal.
Ad size: For ad size it is highly recommended to choose responsive so that it should be displayed properly on every type of device.
Once it is ready click on the create button to get the code.Copy the HTML code and paste it in your text editor. If you have Google AMP pages then copy the code from the AMP tab.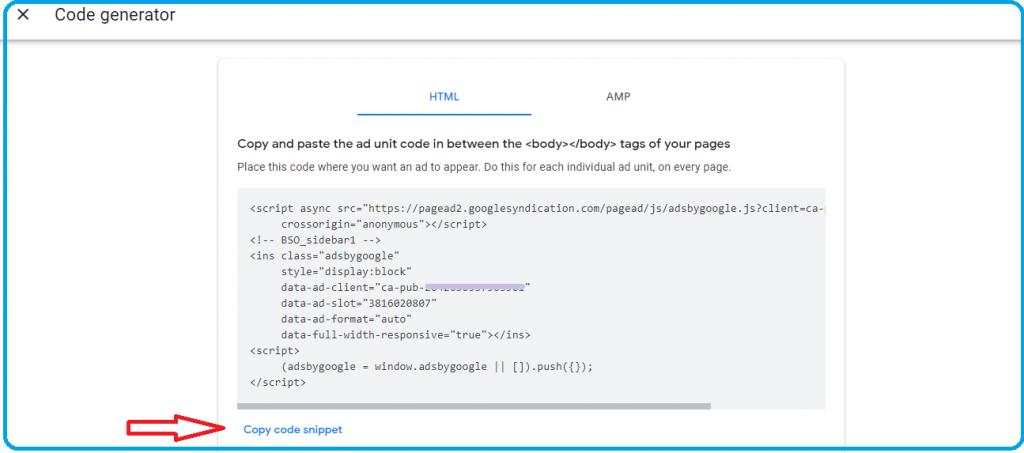 Keep this code copied into the text editor like a notepad so that you can use it in the next step.
Adding Google AdSense Code In WordPress (Using Widget)
Most commonly ads are displayed in the sidebar of a website but you can decide where to place ads on your site and get a high impression.
To avoid giving the interruption to the reader , ads are placed in sidebar ,footer and header.
Steps To Place your ad in the sidebar
Go to Appearance>>Widget from WordPress Admin area.
Click on + to add new widget ,
search custom html widget and click on it
Paste the Ad code and click on update button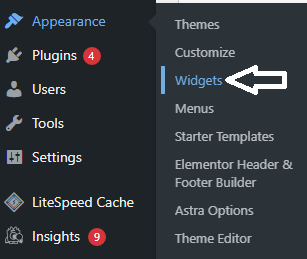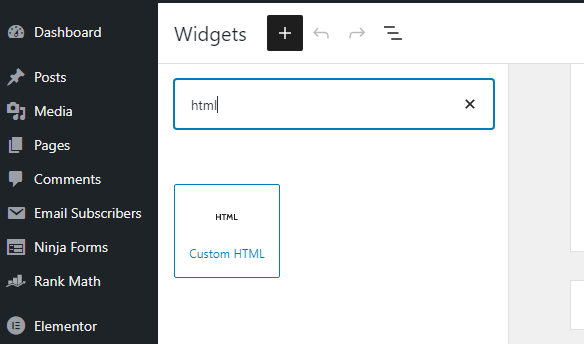 Placing Google AdSense code using WordPress Plugin
Another way of inserting google AdSense is to use plugin in your WordPress site. Reason for using WordPress plugin to take more control on the ad.
for example you may want to display ad after certain paragraph or image, display on limited devices, hiding ads from pages, limiting number of ads in single page etc.
All these can be possible using a single WordPress plugin. Best wordpress plugin for showing the Google ads is the Ad inserter which has a number of options to take control over the ads.
Simply go to Plugin>>Add new from WordPress Admin area and search for Ad inserter. Install and activate plugin to place Google ad code instantly. To access the Ad inserter page go to setting >> Ad inserter from WordPress Admin panel.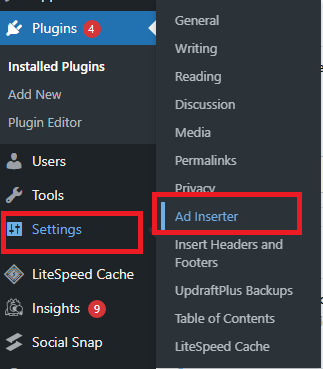 In Ad inserter total sixteen blocks available to place to code and display ads on your WordPress blog.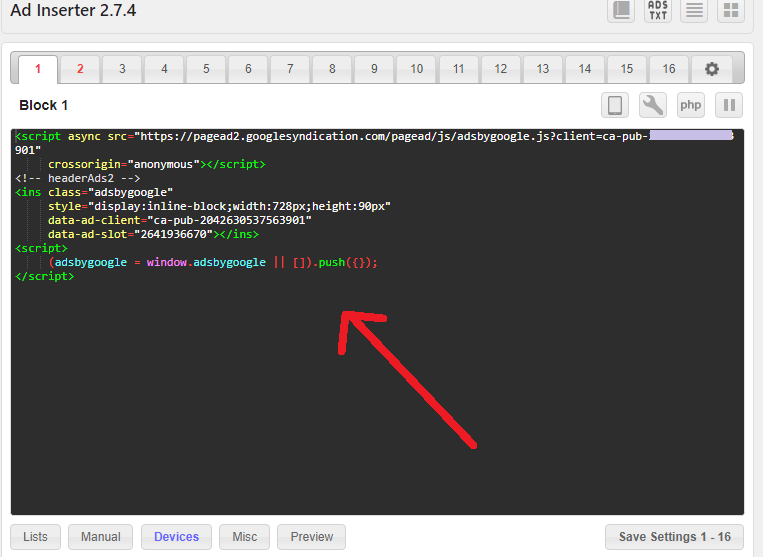 Just copy your ad from Notepad where you had copied and paste in the Ad inserter block and finally save it from the Ad inserter setting.
How To Place Google Auto Ads On Site?
Most of the beginner's face different kinds of problems in properly Google Ads mainly when they try to place ads individually.
Now Google has come up with an auto ad feature which automatically analyzes your site and finds the best location,ad size and ad type to run your ads smoothly.
But you'll be having low control on your ads
To start using Google auto ads login to your adsense account,click on the get code button and copy the ad code.

Now the best way to paste this adsense code on wordpress header is by installing the insert header footer wordpress plugin.
To install the plugin, go to plugin>>add new from WordPress Admin area and search for insert header and footer in the search box. Next, Install and activate the plugin.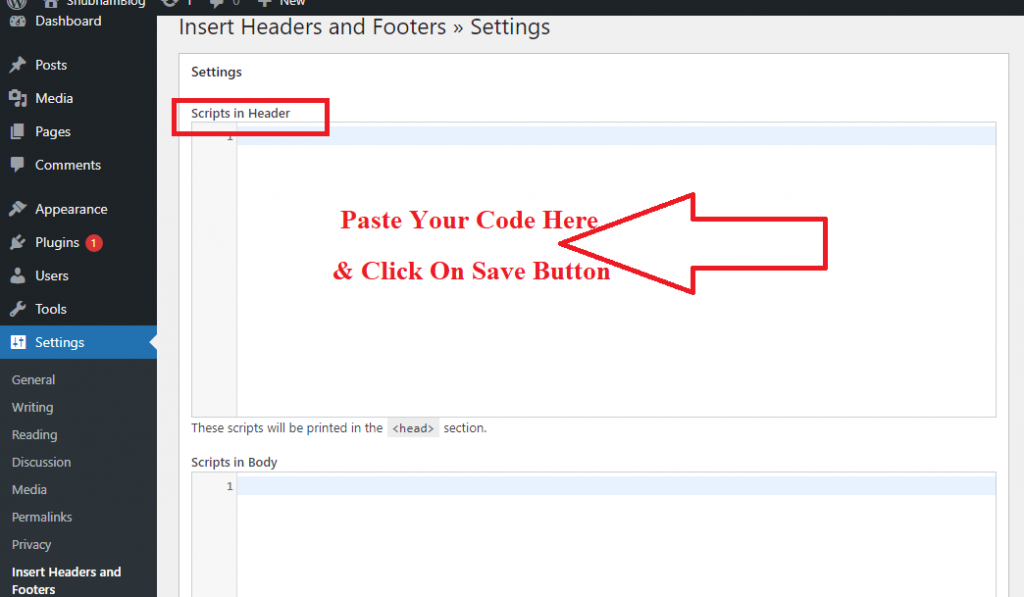 Paste your AdSense code in the header and hit the save button to start showing ad on your WordPress site
What To Avoid While Placing Google Ads On Your WordPress Site
Avoid placing too many ads: Don't make this mistake because it causes your site load slower and interrupts the reader. To avoid bad user experience avoid adding too many as on your site.
Illegal click on Ad: Try to avoid placing your ad in such a location where illegal clicks occur.