Want to start a villa rental business but don't know how to start it ? Here I talked in detail about how you can start a rental business for your villa's from creating a website to reaching clients.
Table of Contents
What is the villa rental business?
How to start a villa rental business?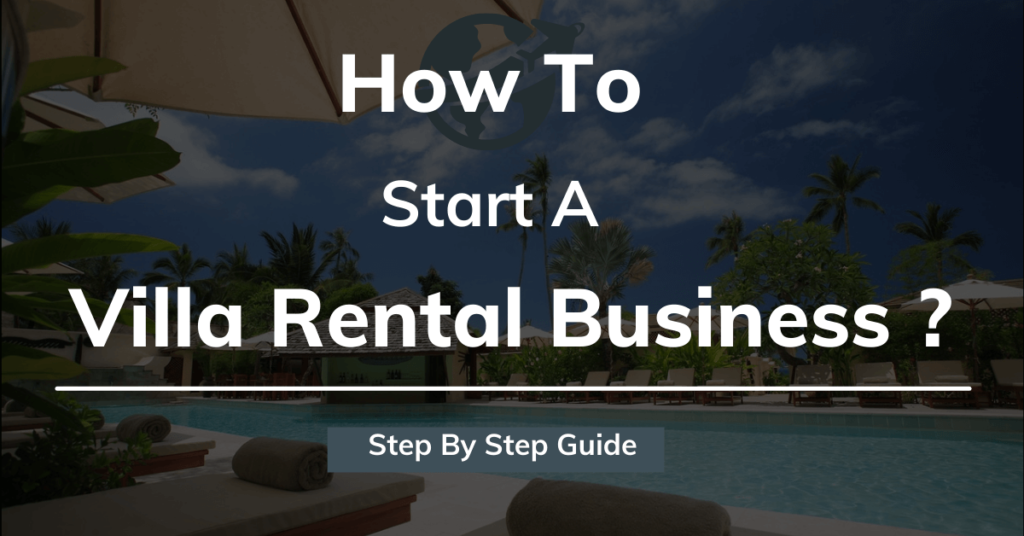 What is the villa rental business?
Villa rental business is a business of renting out owned villas or others villas for customers and charging for staying there. Charges can vary depending on the number of days to stay, features and services offered by villa owners.
The best thing about villa business is that you can start it without owning villa.you can tie up with villa owner ,bring the customer for them and take your commission on each transaction. It is not essential to deal only with villas, you can rent out farm stays,single flats,apartments and cottages.
How to start a villa rental business?
I hope you get a clear idea about how villa rental business works, now let's see how beginners can start this business.
Let's dive into villa booking business from scratch
Step1: Creating villa booking website
In today's world having a website for every business is essential even if it is small. This helps to build your own brand, gives the flexibility to reach more customers and many more.
So what I recommend is , keep your website ready before you start promoting your business.Now building a website doesn't require too much cost and even without coding we can build a good looking website with full functionality just like a website created using coding.
In this post, we're going to create a website without coding so that you can easily start villa rental business.
Are you good here? If yes, let's have a look at the basic requirement of creating a villa booking website without coding.
1)Good domain name: domain name is your website address in the online world through which people reach your website. For instance, www.facebook.com is a domain name when you visit this address you'll be landed on facebook website.
There are various domain name providers such as GoDaddy and Namecheap, from where you can purchase the good domain name and start your villa booking business.
Many times people make mistakes while buying the domain name for their business site. I recommend you to follow the below key points to buy the best domain name without making any mistake.
Keep it simple and short
Include keyword if possible
Should have .COM
Once you remember the above good points definitely you'll come out with a good domain name for your vacation rental booking website.
2)Good WebHosting: Once you buy a domain name , Next you have to find reliable web hosting that will make your website live 24/7 without any interruption. Basically, you buy space to keep your website files online.
Why is good web hosting essential?
If you're more concerned about speed and don't want website crashes frequently then you must choose good web hosting for your website.
If you ask me which web hosting I should prefer for my villa booking site, then I'll recommend Hostinger web hosting.
Because they provide free domain,100GB storage, 100 websites ,free SSL certificate and 24/7 customer support with just $3.49 per month.
I've been using it for the past two year and found it is reliable web hosting so if you are starting as a beginner you must go with Hostinger.
Want to see my website speed after moving to Hostinger? Here we go.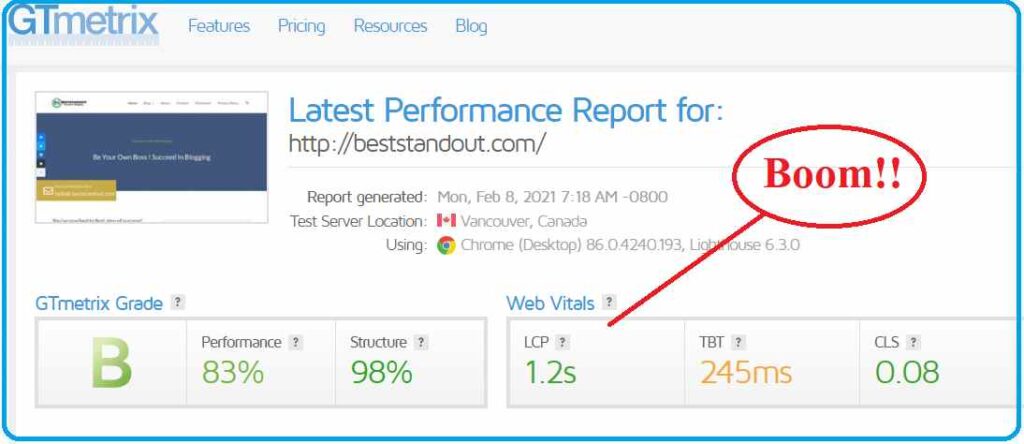 After testing my website on GTmetrix I was surprised by seeing it's result. My website loading speed was (1.2 sec) Which is great.
Here are the complete steps to buy hosting from Hostinger [Easy guide]
1)Use this discount link to visit Hostinger site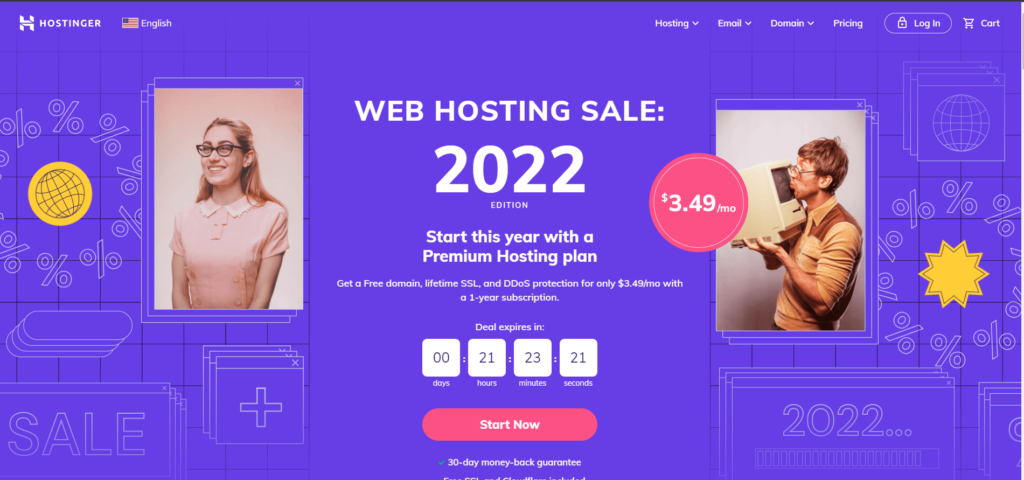 2)Select your best plan( Premium hosting recommended)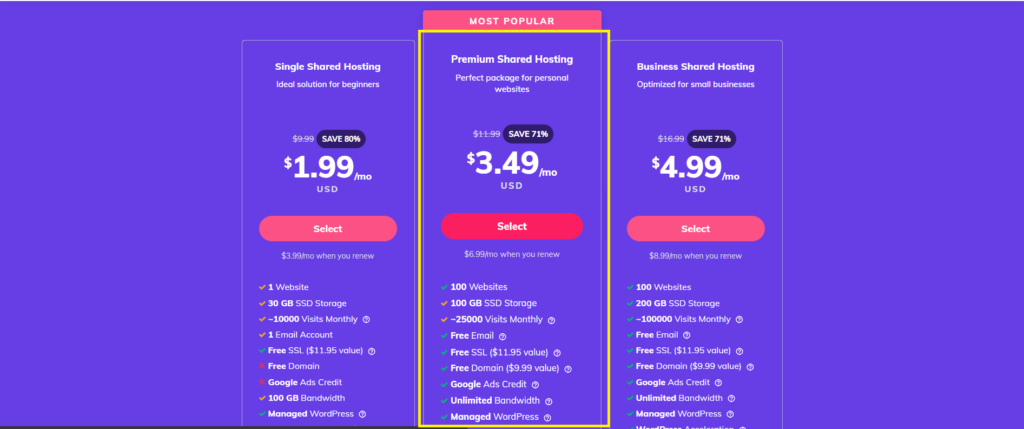 3)Carefully fill the details and proceed to next steps. For you , Hostinger is offering a coupon code that you can use to get an extra discount.
Use coupon code PREMIUM8 in the coupon code text box, you can find it in the payment section.
4)Complete the payment to launch your site
3)Wordpress software: Once you purchase hosting, next you have to link your domain name (www.yourdomainname.com) to Hostinger Hosting if you have taken domain name from different domain registration provider such as NameCheap or Godaddy.
To do this go to nameserver configuration of your domain registration provider and paste your Hosting namerserver there. In our case , what you will do is, you'll copy the Hotsinger nameserver and paste into nameserver of your domain registration provider.
Once nameserver configuration completed, install wordpress software that will be used to manage the backend of the website.
If you're a beginner you may not be aware of wordpress, so for your info, wordpress is a popular CMS(content management system) which is used to develop the website without coding.
It contains the plugin architecture and template system which allows you to fully customize your site by just drag and drop.
4)Villa Booking WordPress theme: Theme is basically a template that defines the layout of your website. WordPress itself offers thousands of free themes that you can use for your villa business website.
But, to create a fully functional villa booking website I recommend you to install a premium theme over a freemium theme.
Premium theme provides more customization to the theme layout,font, custom fileds and customer support as well
To save your time, we have listed some popular wordpress theme which offers most of the functionality that villa booking website need.
5)Essential wordpress plugin: Although when you install a premium theme its required plugin will be automatically installed but there are also other plugins you must install for security,better user experience and ranking factors.
Here is a list of plugins you must install when you create a wordpress site.
Yoast SEO
akismet anti-spam
WP total cache
Social snap lite
Insert header and footer
Ad inserter
ConvertFul
UpdraftPlus-Backup and restore
UPI Plugin
Step2: Tie up with villa owners
Got your website ready? Next we have to move in collaboration with different villa owner.This is the growth point of your earning because the more villa you offer for rent the more you'll get commission.
It won't be possible to have multiple villas with you or any owner so collaboration is a good way to generate massive income from villa booking business.
Follow the key points while collaborating with villa owner
Visit and inspect villa before offering for rental.
Decide your commission with owner
Get updated villa photos and catalog
Get ICS calendar link if they have listed their on third party site like Airbnb
Step3: Publish villa details on website
Once you verified the villa and done the deal with the villa owner, next you have to put the villa details on your rental website, which we already created on the above steps.
While listing the property details on the website makes sure it's core properties are visible to customers. Some core properties are number of bedroom,maximum guest,minimum guest, amount,availability,
You can customize your listing even more if you have installed a premium theme for your rental site.
Step4: Start promoting your brand & get client
Congratulations, the site is now fully ready. If you think I'll start getting customers from now the you're wrong. You have to build authority in front of the audience that will help to build your brand and people will start knowing and trusting you.
Once a brand is built ,you'll start getting sales and conversion.Here I'm going to mention some popular promoting methods that actually work for business.
Do webinar
Run Facebook ads
Step 5: Get money credited into your account
In this step, you'll start getting bookings from customers and cash rolling into your account.
Still, one step is missing that you have to keep remember, make sure your customer get good experience of the booked villa so that they come again and again.
To improve your service collect reviews from customer and identify the missing thing at villa.
---
Conclusion Of Starting A Villa Rental Business In 2023?
Hope , you have started villa booking business, please comment if something I forgot to mention. If you found this helpful ,please share it with others.
You may be interested in following trending article !
👉 Start Most Profitable Online Business Now !
👉 Popular Ways Of Blog Monetization