Hi there, want to know a step by step guide to sell ebooks on Google play store? Here is a simple way to publish your ebook on the play store and earn money.
In today's world, people are moving to the digital world, so taking advantage of this digital you can start putting your thoughts in ebooks and sell it to people.
Believe me, It's totally free.
Once you're ready with your ebooks you can publish it to multiple platforms such as Google PlayStore, Amazon kindle and many more.
In this post, we have talked about how you can sell ebooks on Google play store and start cash rolling in.
Table of Content
Register on Google Books Partner
Create payment profile
Add your eBook
Publish your eBook
5 Easy Steps To Sell eBook On Google Play Store
Before publishing your ebook ,make sure you keep the following things ready
Ebook in pdf format
Ebook Cover page
Ebook Title and description
Description about contribution
Step 1:Register using your Google account
Visit the book partner center to register yourself first. For this you just need your Google account where you'll be asked to enter type of publisher type and your country.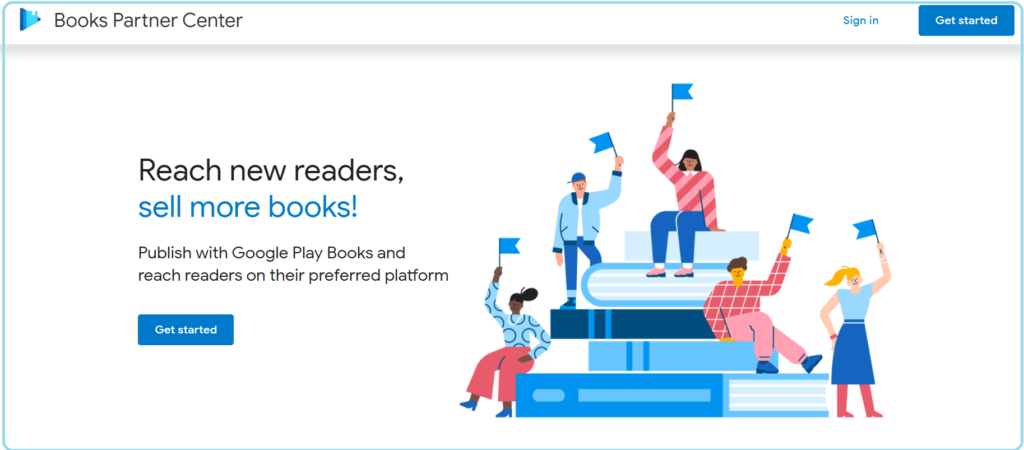 In publisher type you can select among the three option
Publisher
Self publisher author
Distributor or service provider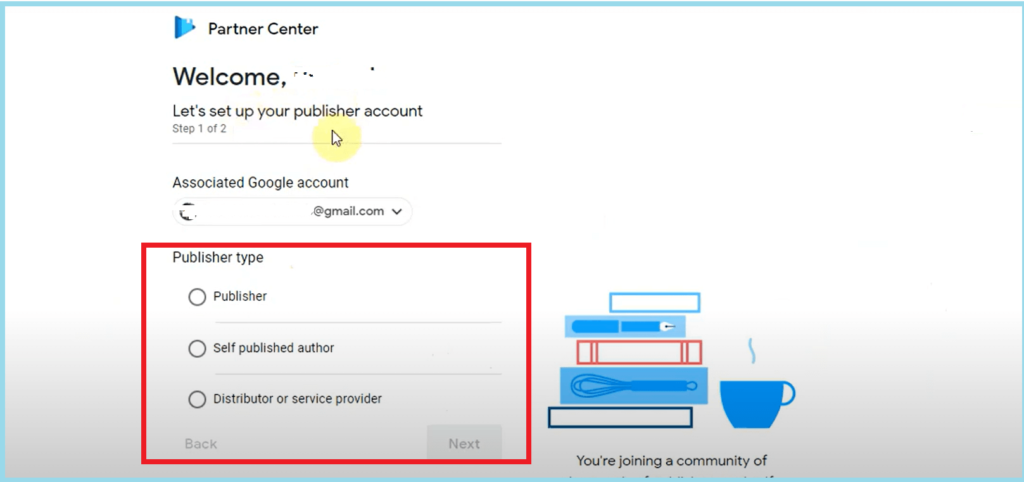 Step 2:Create payment profile
In this step you have to enter your payment details such as,business type ,account type,address,country and phone number. Fill this information carefully and submit it to move ahead.
After entering the basic details, you'll be asked to provide bank and tax information. Once you select your country ,the required field will be populated.
This information will be used by Google to pay you once you start generating money through your ebooks.
Step 3:Add your eBook:
Now in this step, you'll be adding your ebook information that you want to publish on the play store.
Click on add your first book link , choose the sell option from dropdown either sell ebooks on google play store or offer a preview Google books only.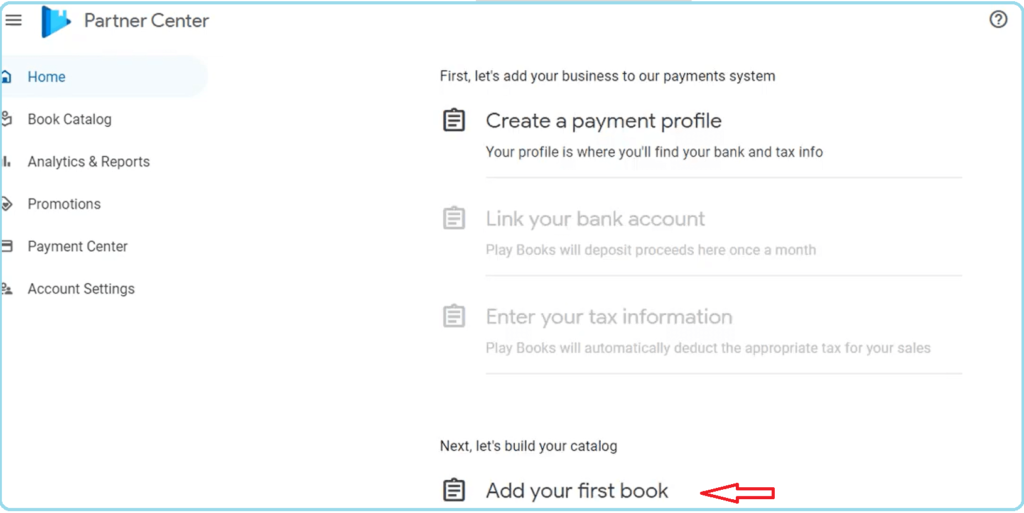 In the next screen, you'll able to see four tab (About the book,Genres,Contributors and Setting)
About the book: This section asks you to enter ebook information that you want to sell on google play store.
Here you need to provide ebook info such as ebook title ,description,publisher,ebook language,page count,minimum and maximum age limit etc.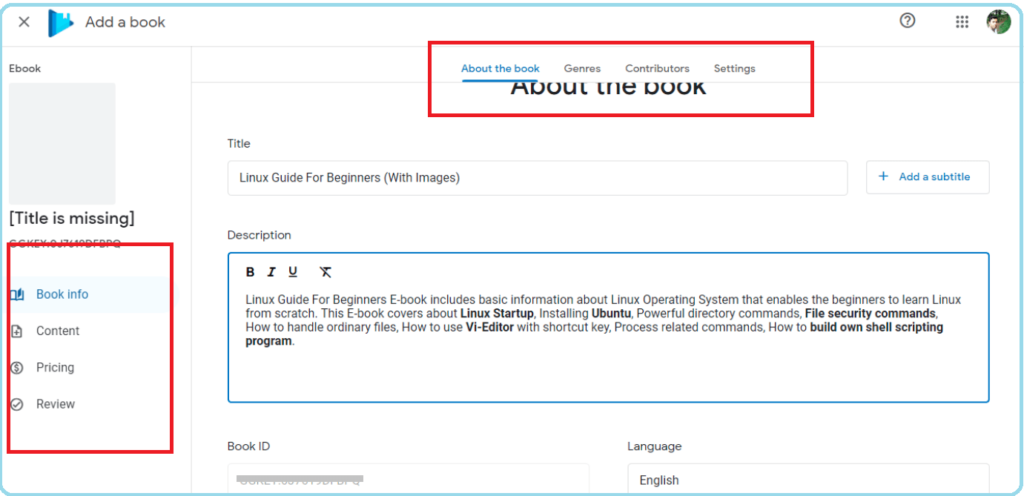 Genres: Here you'll define the ebook category such as business & economic,computer technology ,counseling etc.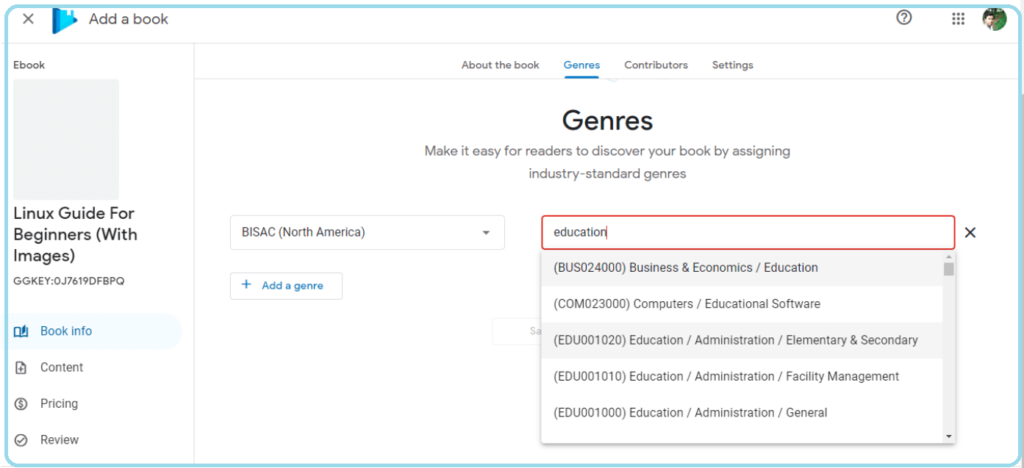 Contributor: Here you need to mention people about who created this ebooks or contributed. Please make sure you have not copied the ebook content from somewhere else. If it is found copied it won't be approved by Google play store.
Setting: In the setting tab you'll decide how your ebook will appear on Google book search. In this you set how many percent of ebook content will be available for preview, copy paste limit and DRM encryption.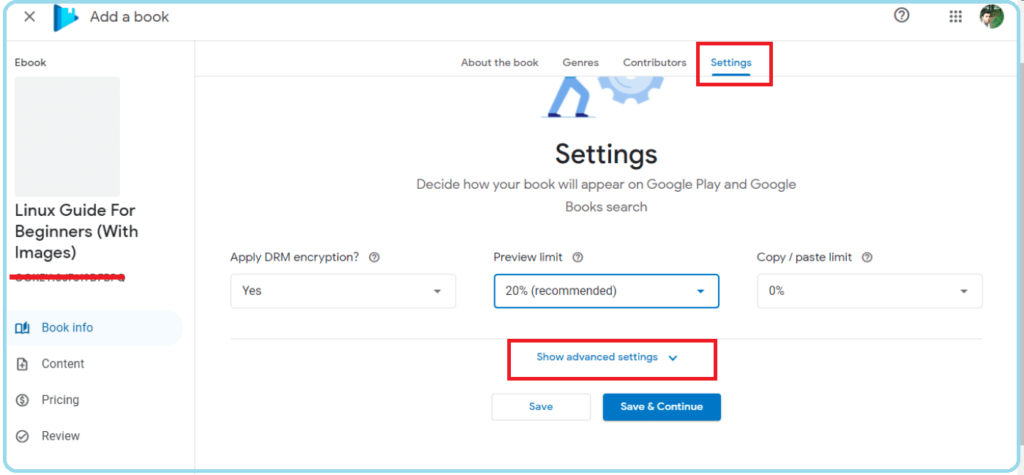 Refer the below snapshot for more information that you need to provide
Once ebook information is filled in , in the next step you have to upload the ebook content and cover which you have already kept ready.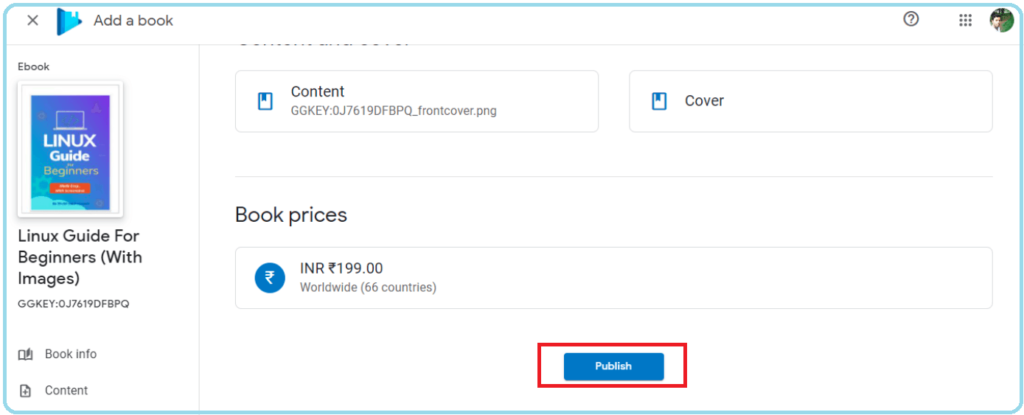 On clicking of continue you have to enter your ebook price
Step 4:Publish your eBook and wait for approval
Once everything filled you can review your ebook ,finally click on the publish button to send for approval.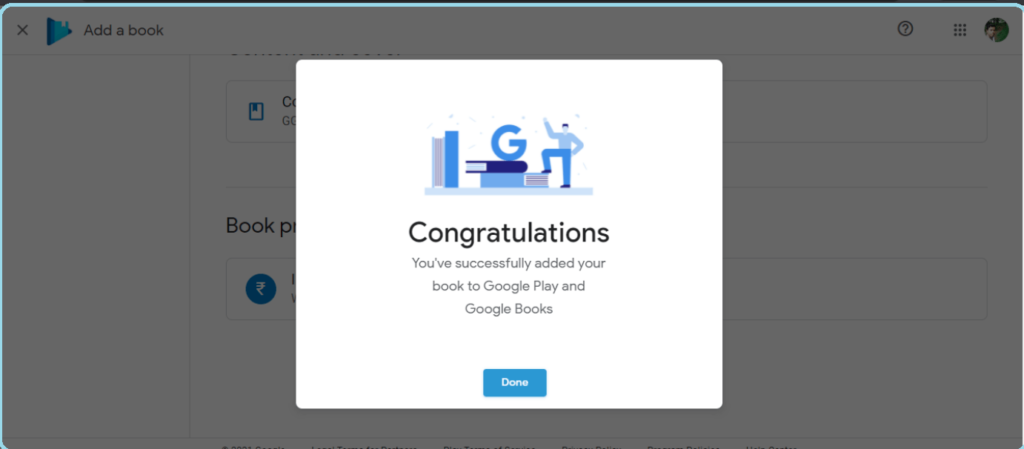 You might be interested in the following article