Want to start website ? but confused about whether to build site using CMS like WordPress or through coding.
In this article I have compiled some important reasons about why choose WordPress for better SEO ranking. 
Since wordpress release it is growing day by day with a huge popularity and has become the best CMS for all over the world.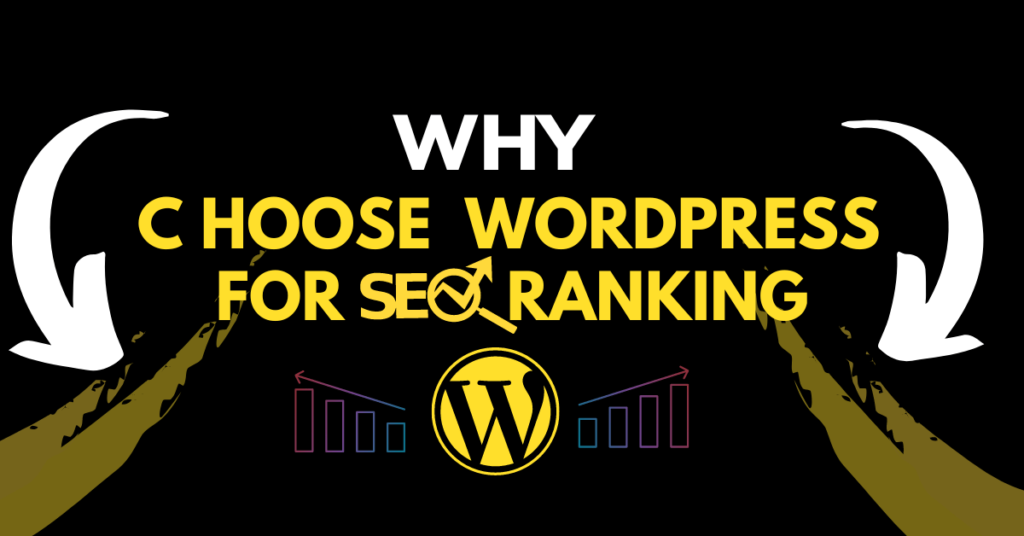 Top 10 Reasons for choosing wordpress for better SEO ranking.
1.Improved User Experience
WordPress is designed in such a way that it can be used by anyone who doesn't have any technical knowledge. WordPress has built a simple UI that makes the user easy to navigate and explore.
Because of the best user experience visitor stays for longer time on site that decreases the bounce rate which is a big factor in SEO ranking.
2.Wordpress Is Easy To Install
WordPress is very easy to install as compared to others so don't worry about its installation. Some of the hosting sites provide an auto installer feature to install wordpress.
WordPress has an import export feature that allows you to import content from other wordpress sites.
This feature becomes essential when you're moving from site to one and want to shift your olders website content to your new wordpress website.
3.Use WordPress at Low Cost
WordPress provides tons of features free of cost whereas you may get the same feature at cost on other CMS.
In addition, development and maintenance cost of WordPress site has low cost as compared to websites developed using programming.
Most of the companies charge from 10k dollars to 100k dollars to build a website through programming language with ample time. There is a big difference in cost as well as time.
Depending upon your need and company size you can decide which best feet for your business.
4.Allows Modify Permalink
WordPress allows you to customize the permalink to make the URL look pretty and SEO friendly.
It has various options which you can choose to set default URL format such removing the date and adding only article name.
It is always recommended to keep the url short and must relate to the respective article.
5.Easy To Manage Metadata like SEO Title
Metadata tells the search engine crawler to identify what type of page content is written. SEO Titles and metadata are two measure factors for ranking your site in SERP.
Adding relevant keywords in metadata increases chances of ranking your site for all those keywords.
Sounds good?
But how can we do on the wordpress site? To add the SEO title and metadata you can use any free SEO plugin such as Yoast seo or rank math.
6.Image Optimization On WordPress is Simple
Image grabs the more attention of the user so it must be included in the page. Image is also one of the ranking factors that drives huge traffic to your site.
Following three ways you can optimize the image on wordpress site.
WordPress allows you to set alt text for your image which helps the search engine crawler to identify the information about the image. Basically we define the keyword in alt text as an image description.To know how much traffic your site is driven by images, login to your google search console , Next go to the performance tab and select the search type as Image.
With wordpress you can install the plugin that will automatically create alt text and compress the image when you upload it.
Place your image nearest to that text which defines the image.
7.Wordpress Focuses On Fast Load
WordPress doesn't frustrate the user by loading the page in a few milliseconds. Google's page speed is a ranking factor for mobile search .
So to preserve your site ranking wordpress uses various plugins such as wp total cache,shortpixel image optimizer that helps load your site within a second.
To test how fast you're website is ,visit Gtmetrix website, enter your website url and hit test button
For instance, wp total cache plugin stores the page content, when a user revisits your site it quickly renders the page.
8.Wordpress Optimized For Mobile
Mobile usage has increased in the past few years.If you're using wordpress nothing to worry about.
Additionally you can customize the theme for how  your blog will look like on  blog Most of the wordpress themes are mobile friendly so you can install according to your blog requirement.
specially when you're a marketer and your site allows online transactions then a mobile optimized theme is essential.
9.Wordpress Has Awesome Plugin For SEO
Are you already a WordPress user? If yes you might be aware about SEO tools which you can install and use freely. For additional features you need to pay extra money but for beginner level free verison is enough.
If you haven't started with wordpress here how you can create a wordpress site in a simple way.
👉 Create wordpress site with step by step
Top wordpress seo plugins that are booming now are yoast seo,rank math and all in one seo.
I'll suggest using the rank math SEO plugin which is simple and useful.I've been using it for the past two years and have good experience.
10.Simple To Customize WordPress Site
WordPress enables its user to customize the website and make a good looking site.
Changes like logo,header,footer background color,font extra can be done quickly, you don't need to keep any backend developer to do the job. 
How much you can customize depends upon the theme you're using. if you're using a premium theme then they allow more customization where the free theme has limited customization.
If you're a developer you can customize using your coding skill.
Note: before making changes to theme code, its recommend to make changes in child theme instead of parent theme so that you receive update your theme
Final Thoughts
Thank to reading till here. I hope you find answer of "why choose wordpress for SEO ranking". Please share it with others and spread the power of wordpress.