Started Blogging and getting enough visitors now what? Now time has come to start blog monetization and cash rolling in. Here I shared the best ways of blog monetization that you can implement to earn money.
All these methods are working and people are making tons of money. After reading this post I'm sure you'll be earning through one of these methods in a couple of days.
Table Of Contents
Affiliate Marketing
Advertisement
Selling Courses
Selling eBooks
Start Consulting
Publish Sponsored Post
Sell Physical Products
Email Marketing
Use Podcast And Advertise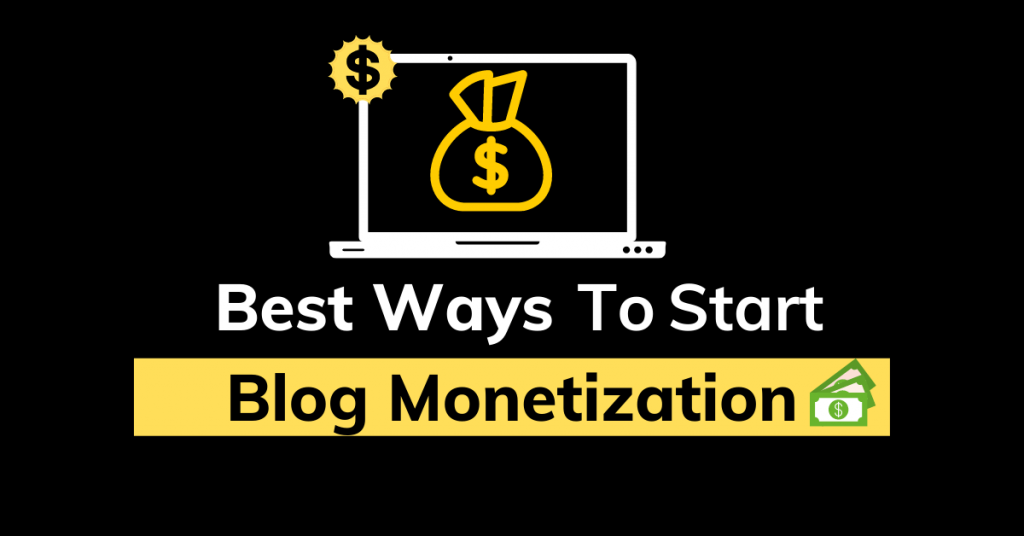 1) Affiliate Marketing
Affiliate marketing is one of the best ways of monetizing the blog and earning money. In this method we promote the other product and take the commission from each successful sale.
Doing affiliate marketing is quite beneficial until you don't have your own product.
Your earnings from affiliate marketing can vary because it depends upon the kind of product you're promoting.
If you are promoting Amazon products you may get commission from 4% to 10% on each product. Whereas if you promote software then you'll earn commission from 30% to 50%.
Depending upon your blog niche you can choose affiliate products and promote them. If you choose affiliate product related to your niche you will get more quality user and high conversion.
2) Advertisement
Advertisement is another favourite choice for blog Monetization that most beginners don't miss.
Here you'll earn money by just showing ads on your website. To do this you need to sign up to popular ad networks such as AdSense and Media.Net etc.
Before displaying an ad on your site your blog needs to be approved by them. If you're planning to earn from Google AdSense then here is how you can get AdSense Approval of it.
To earn good amount of money from advertisement ,your blog should have a minimum of 10000 traffic per day.
If your blog niche is in finance,Your PPC (pay per click) will be high as compared to others.
3) Selling Courses
My favourite option of blog Monetization is selling my own course. This helps to earn more as well as build your brand authority. You can prepare an intuitive and essential course and sell it using your blog that will provide huge value to your user.
Once they find your content awesome ,they will come again and you can upsell them using autopilot mode.
Trending courses like web development, Graphic designing, web designing , photoshoot master, and digital marketing.
Wait there !
Before preparing courses, identify which you're best at and are able to write better content than others. It should have some extra value than other content.
4)Selling eBooks
Most of the bloggers come up with their own eBooks and start selling them. Selling eBook on your blog related to your niche has bigger conversations and a good source of passive income.
Here you can easily promote your eBook by writing content on your blog, running Facebook ads to draw people in and offering eBook.
Whatever knowledge you have in your mind, convert it into an eBook and put it in front of people who will find it useful. They will definitely buy it.
Don't feel the same while selling it. Provide your user with full of value content to stay with you for a longer time.
👉 Here is how you can create eBook and sell them online!
5) Start Consulting
Another lucrative way of blog Monetization is providing consulting services. There are the people who need one to one consulting. Here You will act as their coach.
To start a consulting business you should have thorough knowledge of your consulting service.
Let's say you are providing a consulting service of "how to take business online".
Here you should be able to understand the full business process of your client and provide accurate solutions.
You can charge a good amount for your service.
For example Brennum dunn charges $9k for marketing automation service
6) Publish Sponsored Post
Sponsorship is a great way to make money from Blog especially if you're blog in a micro niche.
Here you'll be posting Content of others by charging money whether it is related to your blog niche or not.
What we recommend is to take sponsorship related to your niche to gain money as well as to happy sponsors by providing them quality users.
If you promote the reverse of your blog niche it can affect your blog readers and Google also analyzes the sponsor link ,if it is found you're linking to penalized sites then you also will be penalized.
7)Sell Physical Products
Another great way of blog Monetization is to start selling physical products to your audience. Many bloggers have launched e-commerce website alongside the blog.
Popular ecommerce website Beardbrand started by Eric bandholz.
If you're blog niche in fashion you can sell physical products like t-shirts, cosmetic products etc. & I believe that you'll get amazing results.
You can create subdomains and install WordPress with WooCommerce to start selling physical products.
8) Email Marketing
Email marketing is a popular and profitable way of monetizing blogs. It has the potential to generate thousands of dollars by sending a single email. But before that you need to quality email list which you obtain using option form ,survey and many others.
Whether you want to provide updates ,offer to your audience ,you need email marketing tools such as SendBlue, Aweber and convertkit to reach the audience and manage the sales in autopilot mode.
Learn email marketing from scratch!
9) Use Podcast And Advertise
Podcast is currently booming now ! Most of the people are showing huge interest in podcast instead of reading.
Statista report says that south korea is ahead in podacasting.for newbie podcast is special ,they can start podcasting to drive huge traffic and build authority.
What you need to start podcast ?
If you think you need to spend more on podcasting to start,then you're wrong. You just need to do small investment
Microphone
Headphone
Audio editing software
Podcast hosting
---
FAQ About Best Ways Of Blog Monetization
When To Start Blog Monetization?
You can start blog monetization as soon as you start blogging but it is recommended to to start blog monetization when you have gain some visitors.
How Can I Monetize My Blog?
best ways of blog monetization is show advertisement ,start affiliate marketing, sell digital product like eBooks , do email marketing and many more.
How Much Traffic Needed To Monetize Blog?
Starting blog monetization doesn't require traffic but to grow and earn money traffic is essential that you can easily achieve by providing some valueable content to users.
👉 You might be interested in the following popular post
15+ Most Profitable Online Business You Can Start
Drive Uncountable Traffic On Blog Using Stunning Social Media