Do you want to know how to create a Facebook page to reach Billions of potential customers.
Here I have shared 7 easy steps to create Facebook page to target audience by location, interest and many more.
Reasons To Facebook Page Creation for Website
Reach to Billion Potential customer
Generate huge Traffic on a website
Less Marketing Cost
Get a high ranking on Google(Backlink)
7 Easy Steps To Create Facebook Page for Website
Let's create a Facebook page in just 5 minutes.
Step 1: Sign Up
Firstly, you need to log in to your Facebook account to start creating a Facebook page. Once your login to your account, click on the "create" menu.
Note: Don't worry about your personal account information, it will be not visible to the Facebook page that you are going to create it.
Visit facebook.com/page/create to create the page.
Step 2: Choose Facebook Page Category
Facebook has two categories of page creation.
Facebook Page For Business
For community or Public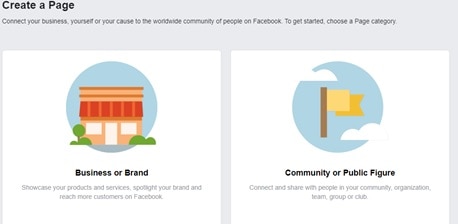 If you want to show your product, brand, then go for the business category.
Select the "community or public figure" category page if you want to share and publish content to the public.
In this article, we are creating a Facebook page for a community so we select the community category page.
Step 3: Enter Page Name
"Page Name" Using this page name people will be searching and find you. As you are creating a Facebook page for website definitely your website name will become " Facebook page Name".
Note: The page you are creating should not exits before. If unfortunately exits then your page name should not much similar to the existing one.
Step 4: Choose Category
Choose Category that best describes your content, Domain. For example: if you're a writer, who publishes content about technology, tutorials then you can choose Blogger as a category.
Step 5: Add Profile Picture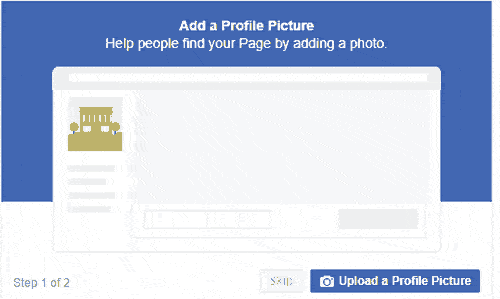 Now add an identifiable profile picture that appears in the search result. You can consider a website logo. If you have made a logo for your website then use it otherwise skip it for now to jump the next step. Make sure its is 128*128 pixel and make a good impression on the visitor.
Step 6: Add Cover Photo

Add an impressive cover page that makes the attention of the user to stay on your page. You can make a cover photo by spending some money but it is not essential.
You can even create a Facebook page cover using photoshop or even a mobile phone.
Note: Make sure its resolution should be 1280*720
Step 7: Adding Page Details

Page Details is details about your Facebook page Services(Example: About us of Website).
It is the place where customer find about your services and get details like open hours (9 am to 10 pm).
Just click on the Edit Page info link to start filling details about the Facebook page, which includes the following measure details.
Description
Describe your Facebook page with character up to 255 maximum lengths that appear in search results.
A description has a measure role in visiting your Facebook page because they read the description to know what your Facebook page does.
Categories
Enter categories to show your page to the desired people. For example, if your page is about a pizza restaurant then your category may restaurant, pizza shop, and more. For blogging Facebook page you can add blogger category
Location and hours
If you have a physical store to give service then include location on a map along with the service area.
Mention hours of opening time for public service if your service is open for a specific time.
After adding the details,save it. Now your Facebook page is ready where you can post your services.
Publishing First Post on Facebook Page
Finally, you filled the details about your service but it is not enough for people to engage with your service.
let's create a post to invite people to like your service through valuable content.
Click on create option to create POST and write relative content through which you want to engage your user.
How To Optimize Facebook Page For Website
Now you have the basic knowledge about how to create a Facebook page for website, Go for optimization of Facebook page to rank on Facebook when someone searches it.
Adding Call to action ono Facebook page